Mar 21, 2011
Marcotting or air layering is used in our farm to propagate fruit trees such as limau nipis, limau purut and lemon. We also use it to increase the numbers of any endangered tree we come across.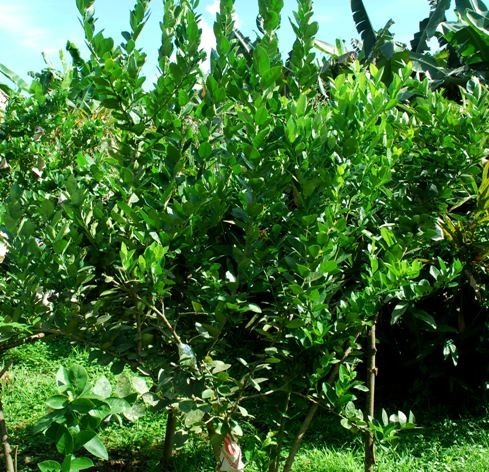 Matured lemon tree from marcotting
We have high success rates with the following method: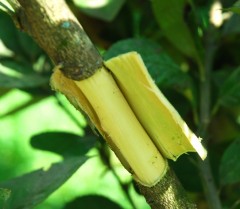 Have a clean cut on the chosen branch from the side of the tree facing the morning sun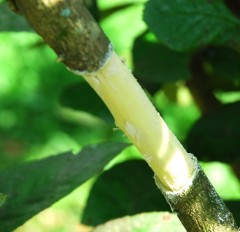 Dusting with rooting powder helps speed up the process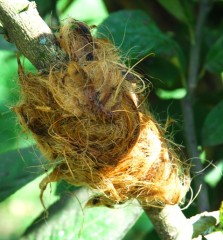 Wrap with areca nut fiber that has been pre-soaked for an hour or so with boiled water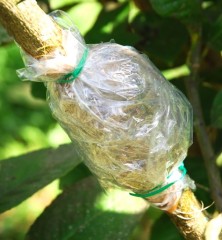 Wrap well with cling wrap
Finally wrap with aluminum foil
Keep the areca nut fiber continuously moist by injecting in boiled water once a week. Use a syringe. Inspect for root formation progress once a month.
Making areca nut fiber is easy.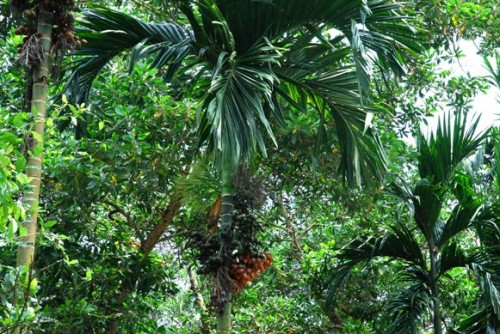 Areca Palm ( areca catechu ) at the farm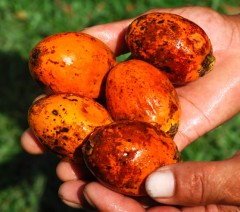 Ripe areca nuts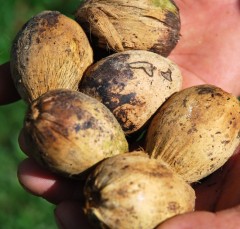 Dry areca nuts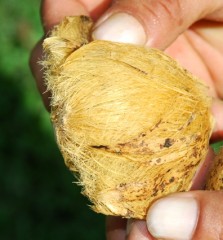 Peel open to expose the fiber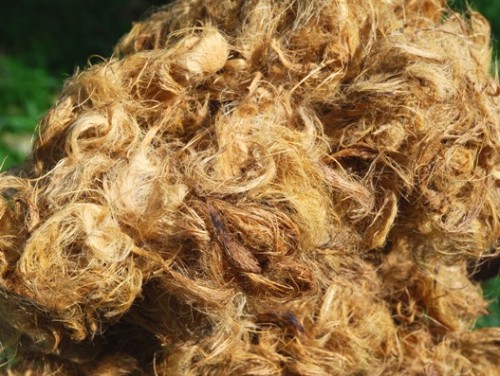 Fine areca nut fiber
Sterilise the fiber by soaking in a light iodine solution for an hour and then sun drying. The fiber will keep for months. The fiber can also be used to make ropes, be woven, etc. Remember to soak thoroughly when using for marcotting.
Next, how to poly bag it, and how to plant it in Marcotting II.
Mar 14, 2011
Here's some permanent agriculture (permaculture) features at the farm: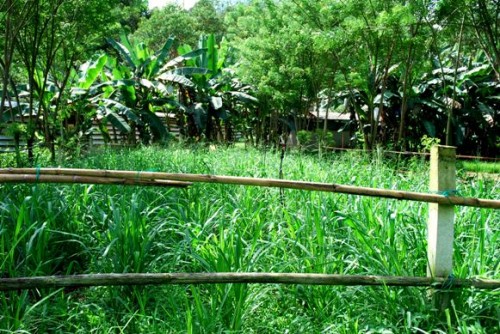 Alley cropping of napia grasses to reduce pressure on arable land for ruminants. By cultivating grasses we can raise up to 200 goats per acre of land versus around 15 here in Malaysia. We alley crop with nitrogen-fixing leguminous gliricidia septum. It may be necessary to fallow with leguminous cover crops after a couple of years. At the moment, we ferment chicken discards such as feathers, guts, etc. to produce a liquid fertiliser, and fertilise twice a year. So far, production of grass has been maintained, a good example of sustainability.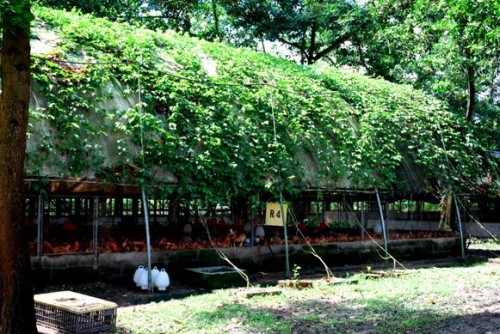 Passion (fruit) vines grow fast, and produce sufficient foliage to impart noticeable cooling. Sun-shading using plants is efficient, easy, with little maintenance needed, and have practically no running costs. Next, passiflora shades in the chicken fields; side effects - more insects and vitamin Cs for the chickens!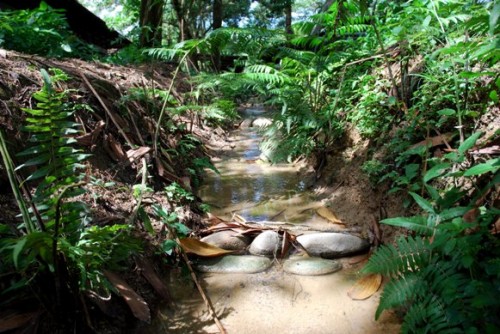 Earth drains permit infiltration of water and generally slows down run-offs. However, in our heavy monsoon downpours, earth drains need regular maintenance and may contribute to erosion.
A judicious mix of earth and concrete drains may be necessary, in addition to other water retention and diversion strategies.
Earth drains increase available planting spaces in small farms. Earth drains at our farm are income generating, producing a variety of crops - watercress, edible ferns, pandan leaves, arrowroots, and various edible taro tubers.
The picture shows the laying of low stone barriers across earth drains to slow down water flow and hence reducing erosion. They also allow for deeper, slower flowing sections enabling feeding and hence increasing the population of wild eels which are harvested.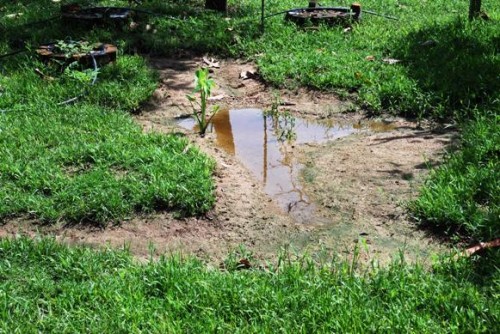 Shaping of land to create catchment areas to retain water, to slow down flow of rain water, and in the case in this picture, to reduce water-logged areas. In the process planting spaces are created for growing water loving vegetables - here, just planted watercress and arrowroot.
After a down pour, the land used to get soggy and difficult to work for days. With these catchment areas, the soggy areas are gone and the catchment area retains water for weeks (due to high water table) - good for planting income generating water loving vegetables.
Mar 11, 2011
Officers from FAMA say we are the only organic watermelon producer in the country. They should know, since they visit almost all farms in Malaysia in efforts to upgrade farming methods to meet international marketing requirements.
We sell our watermelon at only one shop, Fine Organic Gallery at No. 103, Jalan Aminuddin Baki, Taman Tun Dr. Ismail, 60000 Kuala Lumpur.
The owner is Mr. Ng (picture below), and the phone number is 03 7727 6044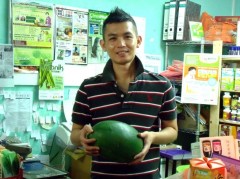 Here's his shop: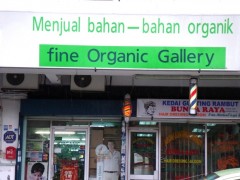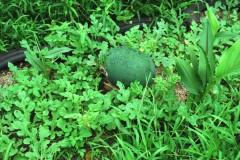 watermelon on raised beds made of old tires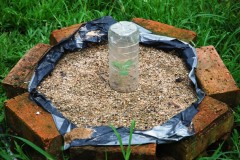 We collect thrown plastic bottles to use to protect young watermelon seedlings
Proud farmer, Pak Cik Razaly, manager at the farm
Here are our previous posts on how we grow our watermelon:
2. Look at what our composts did