Mar 02, 2018
So, everybody's claiming their 'ayam kampung' chickens are organic. Who do you trust? Well, trust us!!
We are the only free range, grassfed 'ayam kampung' in Malaysia that's certified organic by the Department of Veterinary Services, Ministry of Agriculture, Malaysia.
We sell our chickens at Jaya Grocers, Village Grocers, AEON, and some of the organic shops in the Klang Valley. The brand name is DQ 'Clean' Chicken. Here's the certificate: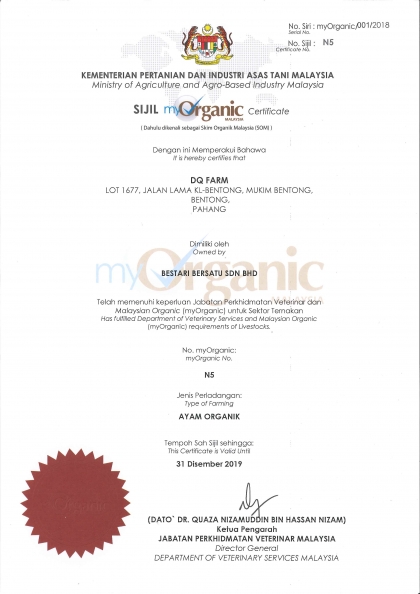 The one and only Certified Organic Free Range Chicken in Malaysia - DQ 'Clean' Chicken
There're only two Certified Organic Eggs in Malaysia. Just like there're only two Certified Organic Durian Farms in Malaysia but 100s claiming to be Organic.
One Certified Organic Egg is from Australia and sells for RM 45.90 for 12 eggs. That's RM3.83 per egg.
And then there's the other one from DQ Farm, selling for RM1.50 per egg at Jaya Grocers.
The Aussie Egg has high standards – each hen is given 72 sq feet of land to roam. DQ Farm also has high standards. We give our hens 120 sq feet of land to roam each.
Now, look at the side-by-side pictures of the two eggs. They are the same quality! One flown in from Australia. One produced here, in Malaysia.
The Aussie produces good eggs. We produce good eggs too.
Enjoy both our eggs! THE ONLY TWO CERTIFIED ORGANIC EGGS IN MALAYSIA!.