Mar 02, 2018
There're only two Certified Organic Eggs in Malaysia. Just like there're only two Certified Organic Durian Farms in Malaysia but 100s claiming to be Organic.
One Certified Organic Egg is from Australia and sells for RM 45.90 for 12 eggs. That's RM3.83 per egg.
And then there's the other one from DQ Farm, selling for RM1.50 per egg at Jaya Grocers.
The Aussie Egg has high standards – each hen is given 72 sq feet of land to roam. DQ Farm also has high standards. We give our hens 120 sq feet of land to roam each.
Now, look at the side-by-side pictures of the two eggs. They are the same quality! One flown in from Australia. One produced here, in Malaysia.
The Aussie produces good eggs. We produce good eggs too.
Enjoy both our eggs! THE ONLY TWO CERTIFIED ORGANIC EGGS IN MALAYSIA!.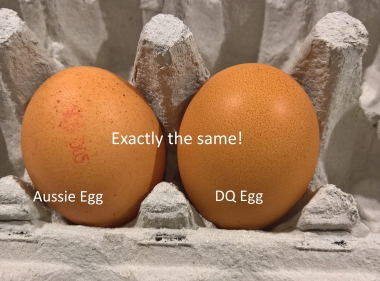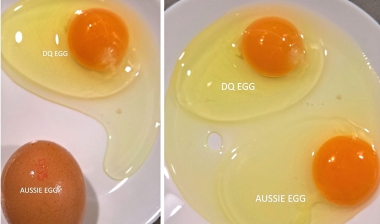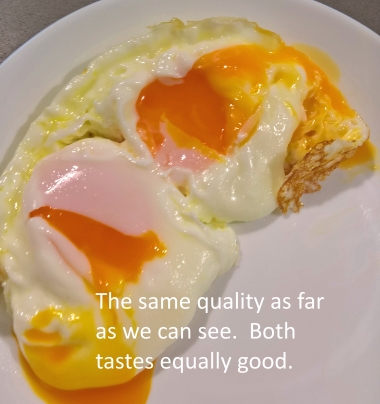 May 19, 2012
Farming terms are being used by corporations to market their produce. For example, 'ayam kampung'. Ayam Kampung implies a chicken that's roaming around freely. But the modern day ayam kampung that you purchase is most probably raised in a factory and have never seen the sun or eaten a single blade of grass.
And how about 'Antibiotic Free'? That has been cleverly marketed to mean 'organic'. Thus a factory raised broiler which may be selling for RM7.50 to RM8.00 per bird is being sold for RM20.00 just by positioning it as antibiotic-free. It is super profit from consumer ignorance and clever marketing.
Here's a video talking about the lexicon of sustainability hijacked by companies:
http://grist.org/sustainable-farming/the-story-of-an-egg-...
Here's a video by PEMANDU / ETP with a segment on our farm:
http://www.youtube.com/watch?feature=player_embedded&...
We are the ONLY pastured poultry farm in Malaysia and we have been doing so since 2001!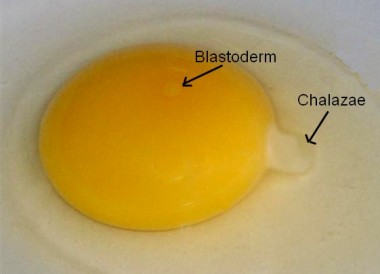 A store is no longer stocking our grassfed, free range eggs because a couple of their customers complaint about that 'wiggly thingy' found in our eggs, and that obvious round disc on the egg yolk.
Well, if we were the store owner, this is what we would say to the customer:
1. We try to give our hens as natural a life as possible. This includes plenty of space to roam, grass to eat, and surprise, surprise, a 'husband'. So, as is normal when wives and husbands get together, eggs get fertilised and babies are born. So that disc on the yolk is a fertilised germinal disc, or blastoderm. Unfertilised eggs will have just a speck. Fertilised eggs will have a disc. And we promise you, eating fertilised eggs will not make you more manly and sprout whiskers, nor will it make you pregnant, nor will it make your unborn baby develop 'chicken brainism', a brain disease of unknown origins.
2. And that wiggly thingy is the chalazae, made of the same material as the white of the egg and intended to hold the yolk in place. Chalazae is prominent in the freshest of eggs. It dissolves and disappears as the egg ages. So, dear customer, the eggs with absolutely no chalazae that you have been eating are clearly not fresh inspite of the words printed in bold on the label, Farm Fresh. 'Chicken Brainism' is a disease common amongst modern consumers and we have no idea where the disease comes from but we can assure you it does not come from eating fresh eggs from hens that are allowed to lead as natural a life as possible.
Nov 23, 2011
We recycle used tires as nests for our layers.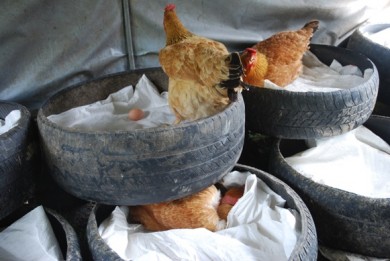 Here's a double decker. It can also be a triple decker, both sides, like an 'A' frame.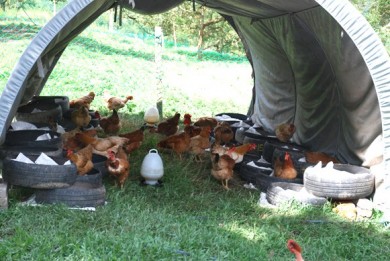 Hens selecting their nests for the evening lay; they can be fussy. Our flock size is 150 hens.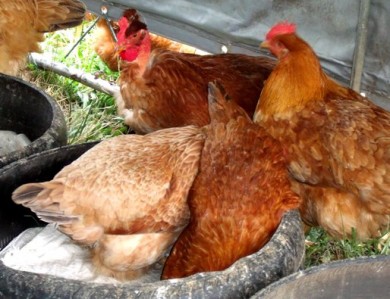 Sometimes several hens just want that particular nest!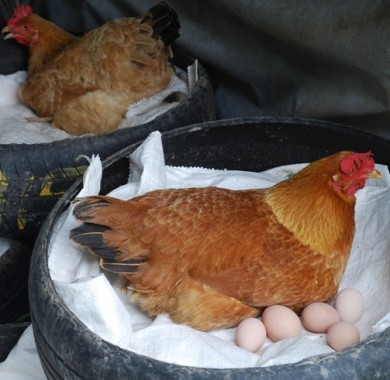 Last one to lay!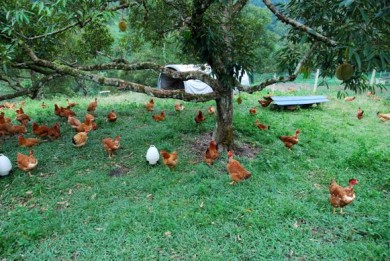 This particular flock have 200 sq ft of grass field per hen. That's chicken heaven!
Oct 22, 2011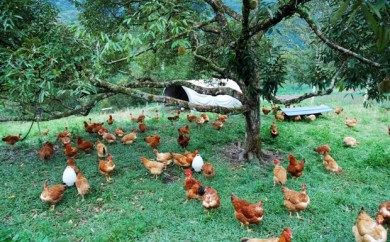 Warms the heart to see our layers going about their business without a care the morning after that down pour. We grow them deliberately on a hill so that the grounds will dry faster after rain and to ensure a clean and dry environment for the eggs.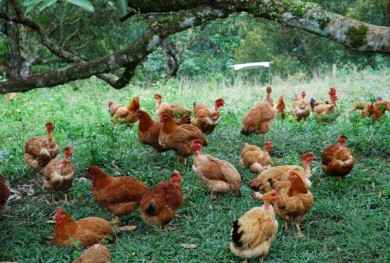 Feb 07, 2009
We sent eggs previously, a few years back to test for omega 3. In particular we were interested in the omega 6: omega 3 ratio. We were not surprised to find 'ayam kampung' eggs and 'organic' eggs having ratios of 20 to 1. We were focussing on the omega 6: omega 3 ratio and not on questions like whether the eggs are free-ranging or not, really organic or not, etc.
As a result of the tests, we wanted to produce our own eggs. We have been doing trials on grass fed, free-range eggs for a few months now and we were surprised that physically there seems to be a difference: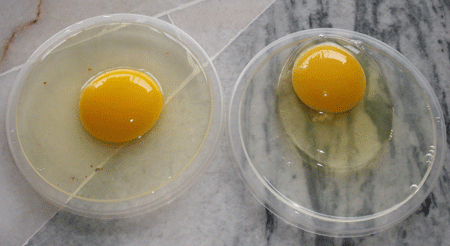 The left egg is a normal egg bought from a supermarket. The expiry date is another 14 days away
The egg on the right is a DQ egg which has been in the refridgerator for 10 days. The supermarket egg is a full 30% bigger.
The white of the supermarket egg is all over and watery. The DQ egg has a thicker white around the yolk, and lesser watery white.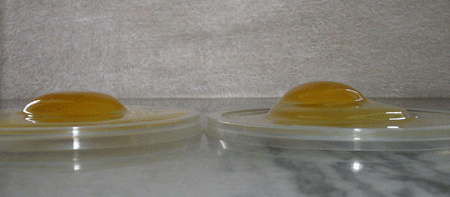 The DQ yolk and albumen stands up, whilst the supermarket egg flattens out.
We are surprised that there are physical differences. We do not know what these differences mean. A friend said it just means that the supermarket egg is less fresh and could be stale. Stale? With the expiry 14 days away?
We will be sending our eggs for omega 6: omega 3 ratio tests and keep this blog posted.
PS: This is the Lady that laid the egg: