Jan 27, 2011
Kunyit Hitam - We hit a mother lode
We hit upon a clump of withered curcuma plants with dried yellow leaves, in the forest next to the farm. This is what we pulled out from underneath the plants; easily a kilogram :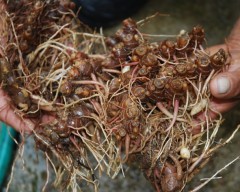 Close up with one of the rhizomes sliced opened.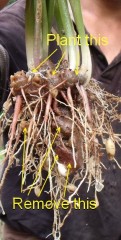 click for close up
This is how you propagate the black kunyit fast. Remove the rhizomes that extend down into the soil to use, and split those above to plant.
NOTE 22/7/2012 : TWO READERS OF THIS BLOG, ONE FROM HAWAII, AND ANOTHER FROM LANGKAWI, PAK DIN, http://herbwalk-langkawi.com.my/thewalk.html HAVE IDENTIFIED THIS PLANT AS Kaempferia parviflora, A PLANT FOUND IN NORTHERN THAILAND AND USED EXTENSIVELY FOR TRADITIONAL MEDICINE. THANKS TO BOTH FOR HELPING OUT.
THE PLANT WAS FOUND IN A FOREST NEXT TO OUR FARM. WE TAKE NOTE THAT THE FOREST IN QUESTION IS BOUNDED ON THREE SIDES BY FARMS AND ON ONE SIDE BY A FOREST RESERVE. WE CAN ONLY SPECULATE HOW IT WAS INTRODUCED INTO THE FOREST, THOUGH WE MUST ADMIT IT SEEMS EXTREMELY WELL ADAPTED TO THE CONDITIONS LOCALLY AND WE HAVE NEVER SEEN ANY DISEASE AFFECTING THE SAID PLANT.