Jul 07, 2017
We are extending our perimeter fence in some areas as we need to increase the number of fields or 'padang'.
Today, as we walk along the newly planted pillars checking on the work by our contractor, Along, we passed a fenced up existing field with chickens inside that is covered with a thin layer of agricultural plastic sheeting / mulch :

Me: So Fauzi, any more wild boar problems?
Fauzi: alhamdulillah bos, no more. Now we only have some loss due to eagles.
Me: How do you know it's eagles and not wild boar?
Fauzi: Eagles, they only eat a little, maybe the organs and some meat from the breast then they leave the carcass. The wild boar, they will eat everything and leave only the feet sometimes. Eagles may kill 3 to 5 chickens. But wild boar, sometimes up to 20 chickens.
A cheap solution to an expensive problem for farmers, without killing any wild animals. ( Simple, effective solutions unfortunately are not patentable )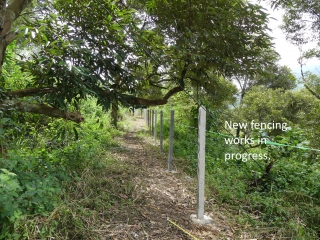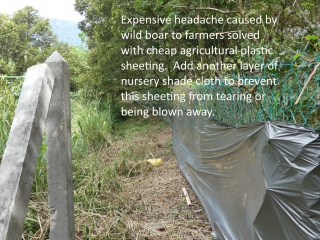 Jul 04, 2017
'Wild Farming' is a work-in-progress to mimic nature. On a vegetable plot, we will plant maybe 40% non-market plants, some with insect repellent properties, some that are just aromatic to confuse insects, etc., and 60% a mix of, or a variety of, market vegetables and plants. In our pilot plot here, the market vegetables are ridge gourd, brinjal, bird's eye chili, sweet corn and lady's fingers.

We are expecting some sweet corn next week; "GMO free some more"

Chilies should be plentiful next couple of weeks. Lady's fingers have started to produce. The terung has slowed a bit but we shall fix that with a compost dressing this couple of days. Over at the petola section, they are working overtime!