Jun 30, 2018
Above The Clouds At DQ Farm
We took this video a year ago.
It was as cool morning - 22 celcius. The fog came down from the hills and we decided to take a look at what's above the fog. We released our Mavic and took this video. Edited using Movie Maker.

Above The Clouds At DQ Farm
Mar 02, 2018
Organic Ayam Kampung?
So, everybody's claiming their 'ayam kampung' chickens are organic. Who do you trust? Well, trust us!!
We are the only free range, grassfed 'ayam kampung' in Malaysia that's certified organic by the Department of Veterinary Services, Ministry of Agriculture, Malaysia.
We sell our chickens at Jaya Grocers, Village Grocers, AEON, and some of the organic shops in the Klang Valley. The brand name is DQ 'Clean' Chicken. Here's the certificate: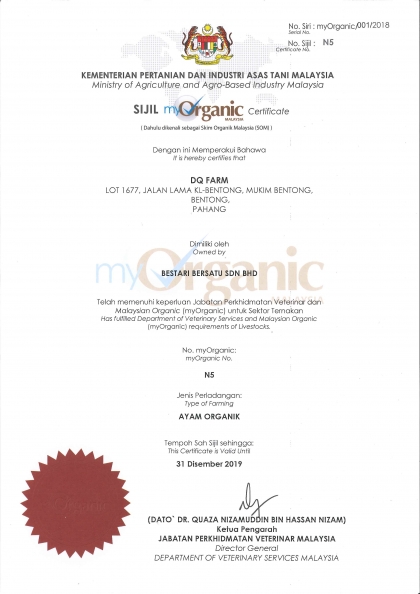 The one and only Certified Organic Free Range Chicken in Malaysia - DQ 'Clean' Chicken
Organic Eggs
There're only two Certified Organic Eggs in Malaysia. Just like there're only two Certified Organic Durian Farms in Malaysia but 100s claiming to be Organic.
One Certified Organic Egg is from Australia and sells for RM 45.90 for 12 eggs. That's RM3.83 per egg.
And then there's the other one from DQ Farm, selling for RM1.50 per egg at Jaya Grocers.
The Aussie Egg has high standards – each hen is given 72 sq feet of land to roam. DQ Farm also has high standards. We give our hens 120 sq feet of land to roam each.
Now, look at the side-by-side pictures of the two eggs. They are the same quality! One flown in from Australia. One produced here, in Malaysia.
The Aussie produces good eggs. We produce good eggs too.
Enjoy both our eggs! THE ONLY TWO CERTIFIED ORGANIC EGGS IN MALAYSIA!.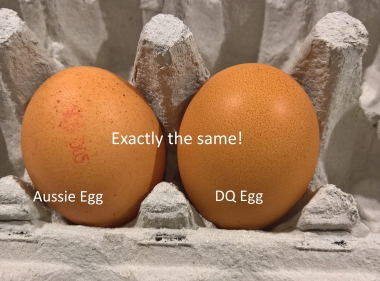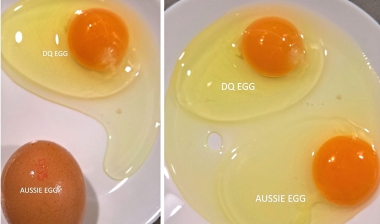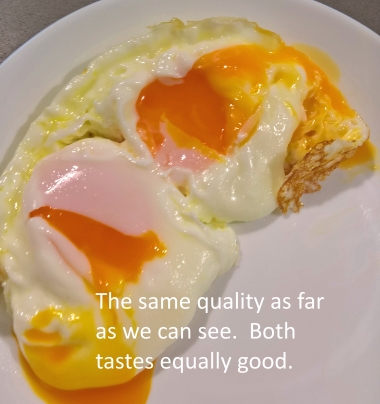 Jul 07, 2017
Today At The Farm
We are extending our perimeter fence in some areas as we need to increase the number of fields or 'padang'.
Today, as we walk along the newly planted pillars checking on the work by our contractor, Along, we passed a fenced up existing field with chickens inside that is covered with a thin layer of agricultural plastic sheeting / mulch :

Me: So Fauzi, any more wild boar problems?
Fauzi: alhamdulillah bos, no more. Now we only have some loss due to eagles.
Me: How do you know it's eagles and not wild boar?
Fauzi: Eagles, they only eat a little, maybe the organs and some meat from the breast then they leave the carcass. The wild boar, they will eat everything and leave only the feet sometimes. Eagles may kill 3 to 5 chickens. But wild boar, sometimes up to 20 chickens.
A cheap solution to an expensive problem for farmers, without killing any wild animals. ( Simple, effective solutions unfortunately are not patentable )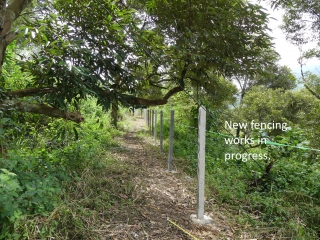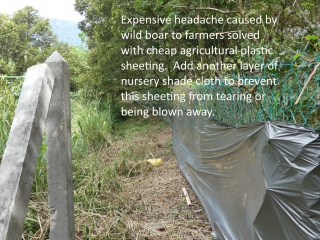 Jul 04, 2017
Today at the Wild Farming Pilot #wildfarming
'Wild Farming' is a work-in-progress to mimic nature. On a vegetable plot, we will plant maybe 40% non-market plants, some with insect repellent properties, some that are just aromatic to confuse insects, etc., and 60% a mix of, or a variety of, market vegetables and plants. In our pilot plot here, the market vegetables are ridge gourd, brinjal, bird's eye chili, sweet corn and lady's fingers.

We are expecting some sweet corn next week; "GMO free some more"

Chilies should be plentiful next couple of weeks. Lady's fingers have started to produce. The terung has slowed a bit but we shall fix that with a compost dressing this couple of days. Over at the petola section, they are working overtime!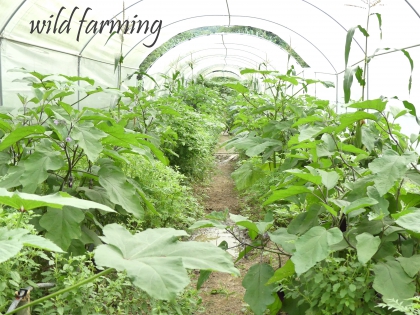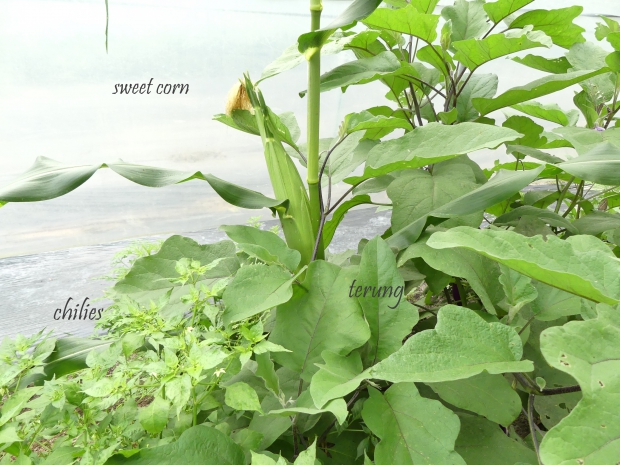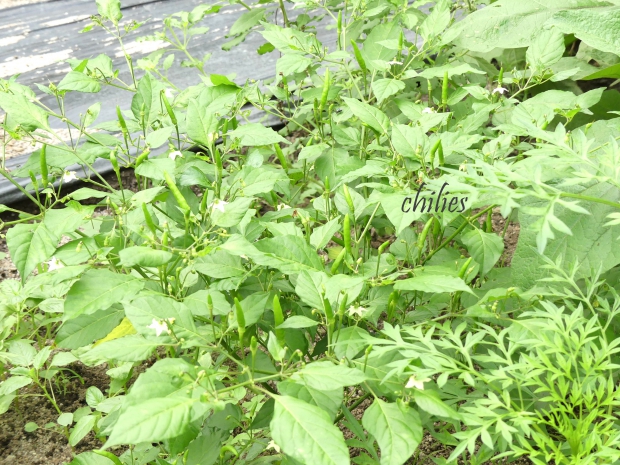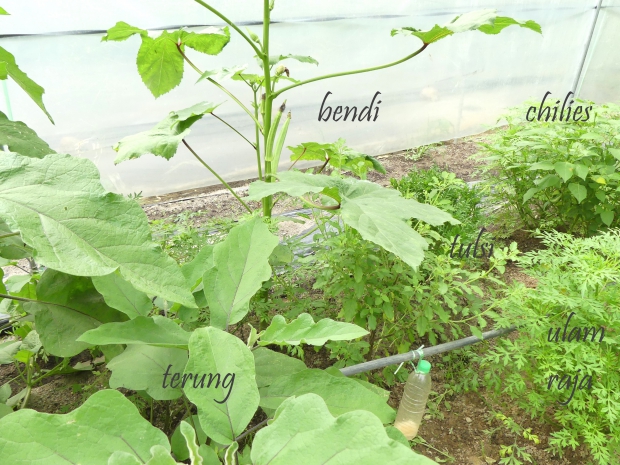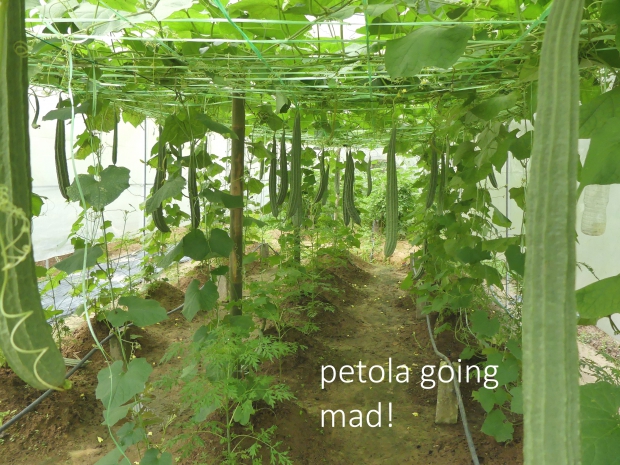 Jan 19, 2015
Hot Weather's On The Way
A bird seldom seen, though by no means rare, is the Green-billed Malkoha, Phaenicophaeus tristis. It is a jungle bird as can be seen by its habit of hopping and jumping around branches in a tree. In fact sometimes it 'runs' up a tree in a series of hops much like a squirrel.
The Malkoha has been a resident in our farm for a few years now. We were surprised to see this individual building a nest in one of our fruit trees right next to a busy farm road. It seems absolutely perturbed by our presense as it goes about gathering twigs and leaves for its nest. It must be at least 3rd generation farm-born to show this level of confidence.
We designed and maintained our farm as a sanctuary for wild-life, even predators. We hope to demonstrate that it is possible to farm and yet co-exists with Nature.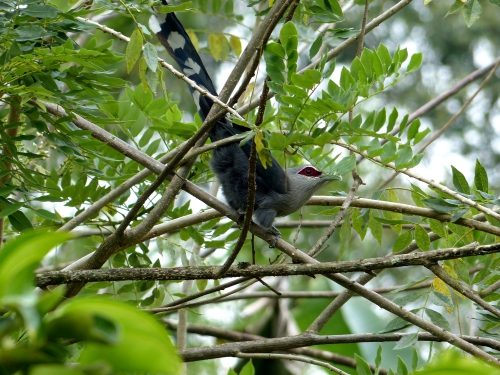 Here's a video we took of it hopping around a dead tree gathering twigs:
Dec 12, 2013
Award for Malaysia's Most Consistent And Steadfast farm in implementing GAP.
The Ministry of Agriculture gave us a national award on December 3, 2013 for being Malaysia's most consistent and steadfast farm in implementing and following Good Agricultural Practice since 2006.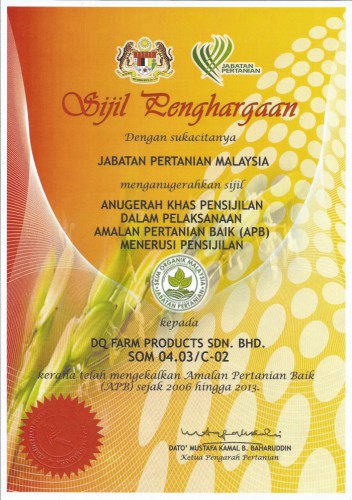 Apr 17, 2013
Useful Plants At The Farm - Sirihan, Piper Aduncum / Angustifolium
The early European explorers to South America must have thought this plant is so important they propagated it where ever they went. It is now found naturalised in most tropical parts of the world.
At our farm it is a valuable part of the natural remedies we have for our chickens.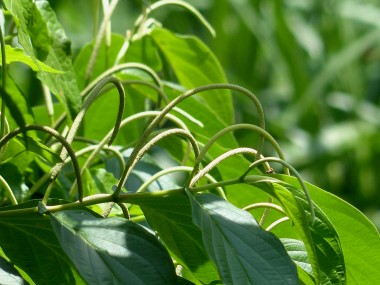 The inflorescence attracts squirrels, tree shrews and civets.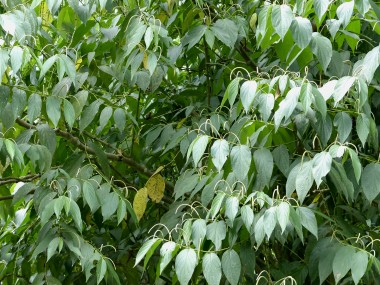 Like its cousin the green pepper vine, lots and lots of inflorescence.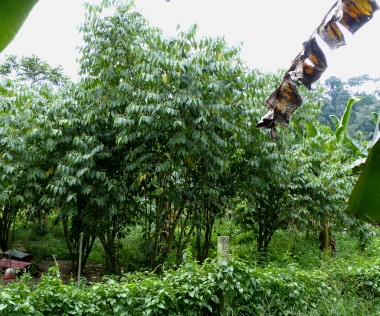 In the fields, they provide shade for the chickens but be careful, they are very invasive and will take over the entire padang!
Here's the technical information : Rain-Tree.com
Crush the leaves. If it has a slight peppery smell, you have the sirihan in your farm. Use it by pounding the leaves and squeezing out in a pail of water, or by decoction. Dosage is dependent on age and symptom.
Apr 16, 2013
Free-Range Egg Model for Rural Farmers
This is the free-range layer model we intend to implement as a social enterprise with rural low-income farmers. If they sell the eggs themselves at the Farmers' Market, each egg should fetch rm1.00 each. We will supply them 200 pullets that are close to laying unlike what is happening now when the poor farmers are given day-olds and in no time, disease will wipe out all the birds.
At the very least, the farmers can expect an income of between rm2500 to rm3000.00 per month.
We will be starting with five farmers in Pahang.
Apr 15, 2013
Sights And Sounds Of The Farm - Emerald Doves
Emerald Doves are usually very flighty and nervous near humans due to poaching. At our farm, they are resident and are found in many nooks and corners. Many times they will just swagger off, in a pigeony way (which they are) when they see us. Here's one that's just in front of our workers' quarters. The video of it feeding in our garden captures the sounds of the farm at around 11 am, mid-morning. If we hadn't tell you, you would think the video is in the forest with the myriad sounds of birds and insects. But that's what we are trying to achieve in our farming - that we can be commercial and yet be in harmony with Nature.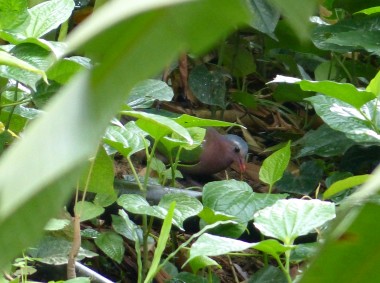 Here's a recording of the sounds that you will hear at our farm. You would be forgiven if you think you are in the jungle.