Dec 27, 2005
Our range of home-cooked DQ Chicken dishes are gaining in popularity. Do not expect gourmet restaurant flavours, that's not what we are selling. We aim for home-cooked flavours; dishes that you will not mind having for dinner,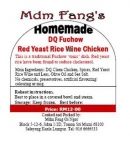 every other day or so.
Our best seller now is DQ Mushroom Chicken Stew. At RM23 a box suitable for 2 to 3 persons, it is a bargain. All ingredients used are natural.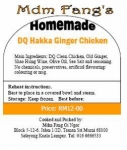 Next comes two traditional recipes, Hakka Ginger Chicken and Fuchow Red Yeast Rice Wine Chicken. Home-cooked by Mdm. Fang Oi Ngor, these two dishes come in smaller packs suitable for 1 to 2 persons, even three if you are having your own dishes. Each sells for RM12 and is value for money.
On the pipeline is Rendang Betawi cooked by Mak Sa'ad Binti Haji Adam. We are waiting as anxiously as many of our customers are for this gem (it is GOOD!).