Nov 27, 2005
Here's what Prof. Peter Singer, professor of bioethics at Princeton University has to say about the bird flu:
http://www.geocities.com/dqcleanchicken2/PeterSinger/Fact...
Tell your friends, if they support factory farming or intensive farming, whether directly or indirectly by opting to buy their "cheaper", sanitised and cosmetically better looking produce, you may end up paying far far more than the little extra that organic farmers are asking for, in the long run. The avian flu is just one example. The previous example was nipah.
Tell your local assemblyman to stop supporting initiatives by lobby groups to have the government introduce more and more sanitised intensive farming policies and easing out the "real" farmers - those who farm traditionally and with respect for the land and the animals.
Nov 12, 2005
An enterprising lady, Mak Saah Binti Hj. Adam, has approached us to use DQ Chickens for home-cooked rendang using a family receipe. We have tried it and it tastes great. She's still working out the pricing but we are so pleased with the results, we have decided to inform our customers first and if you are keen, to book in advance.
Following our standards, no preservatives or chemicals are used. The only cooking oil used is olive oil.
These are the ingredients: old ginger roots, garlic, shallots, lemon grass, galangal roots, coriander, cumin, star anise, fennel, cinnamon, cardamom, fresh turmeric roots, fresh turmeric leaves, limau purut leaves, black pepper, kerisik (coconut), bird's eye chillies, red chillies, coconut milk, candlenuts, tamarind, palm sugar and sea salt. Phew! Plus one or two other "secret" ingredients.
Wherever possible, fresh ingredients will be from our farm.
Nov 03, 2005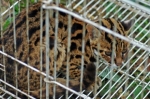 Felix the Felis Bengalensis came avisiting every night, having a chicken for dinner. Well, we are losing some 100 birds a month, so there must be a family around. Anyway, this one is going to Taman Negara.
(Yes, she is the same kucing batu that breeders use to cross with the local domestic to produce the Bengal breed).