Aug 17, 2009
Raised Beds – More Efficient?
We were quite happy with our 71kg of pumpkins from the trial 35ft x 10ft 'no-dig' patch.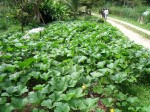 From that first pilot, we have decided it may be more efficient all-round to grow pumpkins in raised-beds. Here's a couple of pictures of our pumpkin raised-bed patch: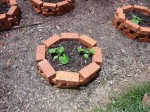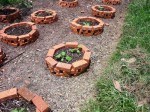 Of course we are not advocating using clay bricks for the raised-beds. We happened to have some left over from the walit house.
You can also use bamboo as the next picture illustrates: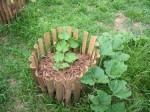 It will be interesting to know the overall cost-effectiveness of this 'raised-bed' method for growing pumpkins in terms of energy and effort used, production, etc.