Mar 25, 2010
The chicks are now 30 days old and have opened their eyes. Time for some imprinting to prevent them from joining some wild flock in a couple of weeks time when they start to fly.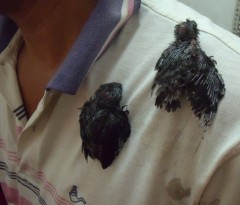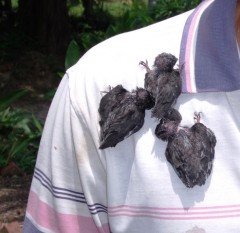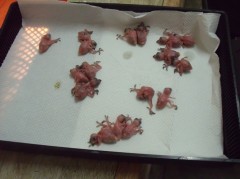 Part of our second batch of about 30 chicks.
We have fine-tuned the brooding temperature, food and other variables for the hatchlings. This second batch looks like heading for a 90% survival rate. The industry standard is 30 to 50%.
Feb 26, 2010
Building up the critical mass naturally takes time. We decided to speed things up a little by incubating eggs and acclimatising them to the micro-climate at our farm from hatchlings.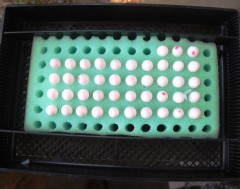 Eggs dated and where there are pin holes and fissures due to mishandling, nail polish is applied.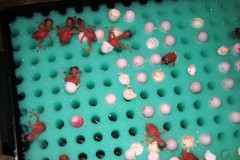 Hatching out in a mere 16 days, not 20 + days as recorded in most books. Almost failed as knowing the incubation period is critical to a successful hatch. However daily observation and experience permitted us to have a successful hatch inspite of misinformation from books and various blogs (one blog recommended an incubation temperature of 40 celcius. That will most likely 'cook' the embryo).
In the brooder at 35 celcius.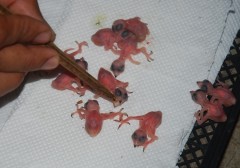 Hand feeding starts 8 hours after hatching.
Update: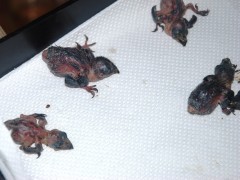 Feathering after 14 days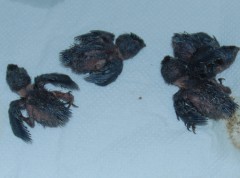 Feathering after 21 days
Nov 05, 2009
On 30th Oct we switched on the sounds on a permanent basis. Today, we noticed the droppings of at least 10 pairs of newly weds. This must surely break all records for the time it takes for the walit to take up home in a man-made structure.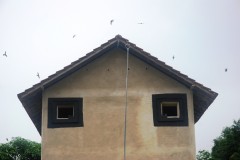 The walit in a farm like DQ provides a useful function in keeping the insect population low. We first noticed the walit when we were scratching our heads as to why our honey bees just keep on disappearing. Then we put two and two together.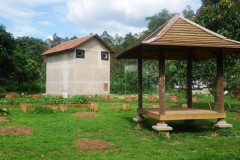 Completed walit house plus garden.
Oct 28, 2009
Today we had our first trial run calling the walit.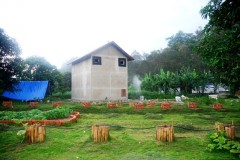 Completed walit house.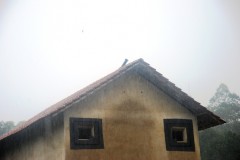 We switched on the 'bazooka' tweeter for the first time. It's that dark outline jutting up on the roof, in the picture. It has a range of 1 km.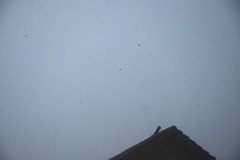 And the walit came after just 5 minutes ! We counted easily a hundred! They dove down and around the house and some went in on investigatory flights.
Now we wait for some newly wed couples to make our house their home.
Aug 10, 2009
The swiftlets of the species, Aerodramus fuciphagus and Aerodramus maximus produce edible nests called the caviar of the East, primarily because of the high price.
The swiftlets come down from the forest reserve adjoining our farm to feast on the many insects that the farm is home to. We are building a 3 storey building for the birds to harvest their nests in a sustainable manner.
Barely three weeks after we started work, the building is now on its final third level. And today while the outside temperature was hovering between 30 to 34 celcius, the inside was a constant 24 celcius, the ideal temperature for the birds. The wonders modern construction methods can do!
The key to successful swiftlet rearing is stability of temperature throughout the day and night. We are off to a good start.



The last floor. Click on pic for a close-up look.
Update September 13th, 2009 :
click to enlarge
September 13th, almost there. The fasting month has delayed things somewhat as some of the workers went back to their home villages. Hopefully, after Hari Raya Aidilfitri we can start calling the birds to come to their new home.