Jan 23, 2009
So, is your organic farmer 'sustainable'? Does he practise sustainable agriculture, or is he the organic version of the commercial industrialised farmer?
Here's an example of how we practise sustainability: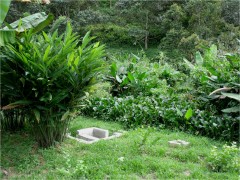 This is a filtration pond. Plants are used to absorb the nutrients in waste water from the fish ponds and from washing the rebans. From the pond, the water flows out into a bacterial filter to further break down the pollutants.
From the bacterial filter, a long narrow winding stream further filters the water using water plants.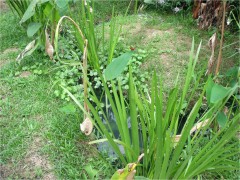 Alongside, water loving plants such as bananas, misai kucing, etc. will absorb all nutrients that seep into the surrounding soil.
We try to reduce our foot print as best as we can.
So, is your organic farmer 'sustainable' or is it just business for him?
Nov 29, 2008
About a year ago, I decided to plant a "qi" garden. What this means is a garden with plants that will emit lots of energy. This was my working sketch: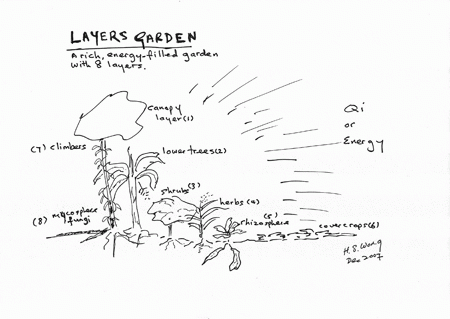 I brought down plants from the jungle and planted them there in the garden. The uppermost layer was dominated by a Meranti tree ( which I had planted 12 years ago. Then the next layer were Eugenias. I collected ferns and other shrubs from the jungle and started to build up the layers. Rhizomes were added to occupy the layer below the soil. Wines and tanduk rusa occupy yet another of the multiple spaces that one can find in the jungle that I am duplicating here.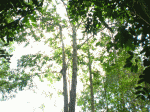 The meranti that forms the top layer, now 30 meters tall.
By the beginning of this year, the garden was taking shape nicely and I began to do my qi gong exercises regularly in the garden. The garden emanates a calm energy and one feels energized yet calm after a couple of hours in the garden.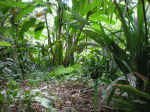 The jungle - like atmosphere of the garden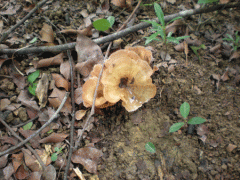 Rare funguses form the bottom layer
One day, about 4 or 5 months ago, I heard a low "kroaw kroaw" in some of the bushes. It sounded full throated and I estimated the bird that made the sound to be the size of a pheasant or a large chicken. I was doing my qi then and I just sort of looked at the location where the sound came from, some bushes and return to my qi exercises. After I finished, I did a casual examination of the location where the call was coming from and found nothing. Odd, I thought that a large bird like that could hide itself so well.
This carried on for a while. Each time I moved around in the garden or did my qi, the bird would make its calls. Not calls of anger or alarm or warning. Nothing like that, just calls to let you know it is there – kroaw, kroaw, kroaw.
One day, curiousity took command, and I went down to my knees and search everywhere in that little garden. Nothing, nada. And when you least expect it, it goes kroaw kroaw kroaw.
(to be continued)
Aug 27, 2007
Dato' Abdul Hanan bin Alang Endut, Sec. Gen. of the Min of Science, Technology and Innovation visited our farm on August 26, 2007. For the first time in his life he ate 'sawi' raw like a salad and declared surprised at its 'sweetness' and crunchiness. The 'sawi' was grown using our Nature-Q Farming methodology.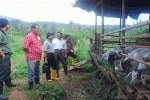 Dato' Hanan was especially interested in our experiments with micro-farming where on an acre of land, we raise goats, chickens, organic vegetables and fruits to produce an income of between rm2000 to rm5000 per month.
This picture shows a goat shed built using traditional technology and sustainable materials costing about rm250 for a shelter to house up to 50 goats. Using modern methods, the cost would be rm20,000. Most of the materials used in a modern shelter would be timber and not sustainable.