Aug 27, 2007
Dato' Abdul Hanan bin Alang Endut, Sec. Gen. of the Min of Science, Technology and Innovation visited our farm on August 26, 2007. For the first time in his life he ate 'sawi' raw like a salad and declared surprised at its 'sweetness' and crunchiness. The 'sawi' was grown using our Nature-Q Farming methodology.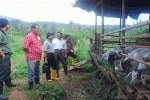 Dato' Hanan was especially interested in our experiments with micro-farming where on an acre of land, we raise goats, chickens, organic vegetables and fruits to produce an income of between rm2000 to rm5000 per month.
This picture shows a goat shed built using traditional technology and sustainable materials costing about rm250 for a shelter to house up to 50 goats. Using modern methods, the cost would be rm20,000. Most of the materials used in a modern shelter would be timber and not sustainable.