Oct 28, 2009
The Bayam Pasir (wild amaranth), a personal favourite is ready for harvest. And to be frank, I did not even visit the bed once since we sowed the seeds three weeks ago. Nobody did any weeding, the farm hand just turn on the sprinkler occasionally when the compost was dry to the 'poked-finger' and once a week sprayed some compost tea.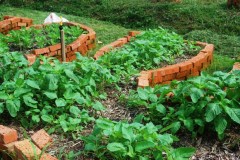 Note: Bayam Pasir draws unhealthy levels of nitrates from chemical NPK fertilisers. Always use low N compost. Avoid eating too much 'modern' hybrid vegetables grown conventionally. Always chose vegetables grown on compost such as Grace Cup, even though they may not be certified. Choose organic vegetables that are non-'modern' hybrid (heritage or heirloom) and slow growing, and grown on compost too. Talk to your farmer.
Avoid buying from 'organic' corporate farmers. They will use high NPK 'organic' fertilisers, high N demanding vegetable varieties (faster growing and larger), etc. Too much of these vegetables may cause imbalances in our bodies.