Oct 08, 2011
Being able to perform necropsy of dead chickens and to identify diseases is crucial for the success of a chicken farm.
Delays in disease identification can lead to outbreaks resulting in high mortality and economic losses.
It is absolutely necessary for detail records to be kept from Day 0 until all the chickens are sold, for each batch. Detail records will enable us to analyse out trends and history, which together with the lesions in organs will help identify the many causes of poor weight gain, mortality, etc.
For example, trend analysis enabled us to identify a non-gumboro spiking mortality phenomenon in young chicks below two weeks old, which we ultimately traced to mosquitoes.
Dirgha Bahadur Tamang, from Nepal, has reached competency in necropsy and disease identification.
Dirgha receiving his certificates from Razaly, the farm director
We provide him with a 3 inch thick file of laminated pictures of the key clinical signs of various common chicken diseases. He uses the pictures as a reference and when he sees the start of infectious disease in culled chickens, he will raise the alarm for quick pre-emptive action.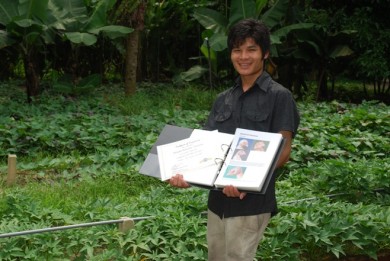 Dirgha with his certificates and his file on common poultry diseases
We hope to be able to sponsor him for further studies to be a vet some time in the future.

Dirgha performing a necropsy on a young chick.