Aug 21, 2009
I have this thing about Darkness. So we decided to build a spot of darkness in a corner of the farm; a spot dedicated to dark colored plants. Plants with dark leaves, dark flowers, dark tubers.
The plants will be grown in a raised bed with a Permaculture key-hole design.
Lay out the design with the key-hole (used for walking when tending the garden)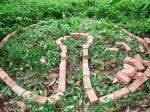 Build up the wall; how high depends on how deep-rooted the plants are. (These are left-over clay bricks from the walit house).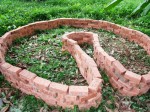 Put in the planting material; here, dead leaves, some very old broken down chicken manure, some soil etc.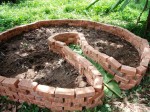 Then add in the compost and the plants.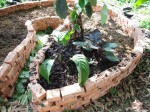 Then mulch it.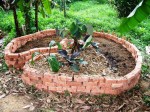 Here we have only completed planting just one corner while we hunt for more dark plants. We planted some aroids from the jungle, such as this (haven't got the name yet. Click for close-up). :
And a Tacca Chantrieri from the jungle, which flower is black (Click on photo for close-up) :

Photo of the Tacca flower from here
Once the garden is matured, perhaps we can sip dark pu erh tea and savour it with a melancholic Stratovarius playing in the background.