Apr 19, 2009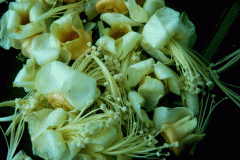 Durian flowers are delicious with a subtle taste and smell. It can be eaten raw as a salad with some sambal belacan. When eaten raw, the whole flower can be eaten - the petals, stamen, pistil and sepal. The sepal is sweet with a tinge of bitterness.
The flowers are delicious stir-fried with prawns, calamari, or shell fish , with chicken pieces, with tofu. When stir-frying, use only the petals, stamen and pistil. Do not use the sepal which turns acrid when heated.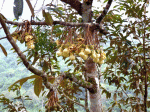 Make sure you get your flowers from an organic farm such as DQ Farm as during flowering season conventional farms will use a fair bit of weedicide and fungicide.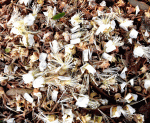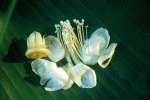 Parts of the durian flower. The sepal is sweet when eaten raw but turns acrid when cooked.
Simple Yet Delicious
Quickly immersed flowers in boiling water, remove and drain. When cool, serve with sambal belacan.
Stir-fried with Calamari - spicy
Blend onions, garlic and fresh red chillies. Stir-fry in some oil until fragrant. Add prawns or calamari, salt and some sugar to taste. If desired some belacan can be added. Add flowers for a few quick stirs, and serve. Yummy.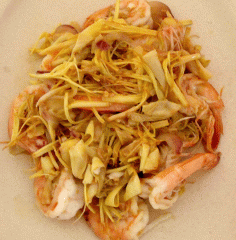 Stir-fried with Prawns
Chop onions and garlic. Stir-fry until fragrant. Add prawns, salt and sugar. Add flowers, stir fry quickly, serve. For those prefering a bit of spiciness, add chopped chilli padi as garnish.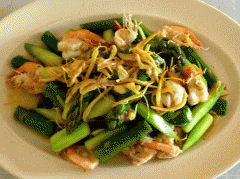 Stir-fried asparagus with prawns, oyster sauce and of course, durian flowers.