Feb 07, 2009
We sent eggs previously, a few years back to test for omega 3. In particular we were interested in the omega 6: omega 3 ratio. We were not surprised to find 'ayam kampung' eggs and 'organic' eggs having ratios of 20 to 1. We were focussing on the omega 6: omega 3 ratio and not on questions like whether the eggs are free-ranging or not, really organic or not, etc.
As a result of the tests, we wanted to produce our own eggs. We have been doing trials on grass fed, free-range eggs for a few months now and we were surprised that physically there seems to be a difference: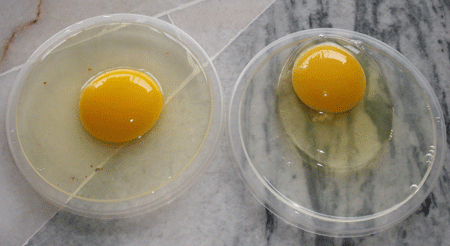 The left egg is a normal egg bought from a supermarket. The expiry date is another 14 days away
The egg on the right is a DQ egg which has been in the refridgerator for 10 days. The supermarket egg is a full 30% bigger.
The white of the supermarket egg is all over and watery. The DQ egg has a thicker white around the yolk, and lesser watery white.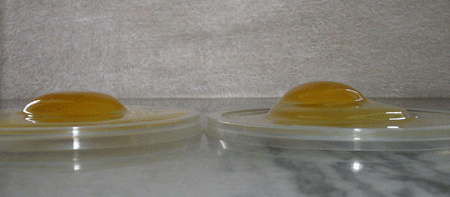 The DQ yolk and albumen stands up, whilst the supermarket egg flattens out.
We are surprised that there are physical differences. We do not know what these differences mean. A friend said it just means that the supermarket egg is less fresh and could be stale. Stale? With the expiry 14 days away?
We will be sending our eggs for omega 6: omega 3 ratio tests and keep this blog posted.
PS: This is the Lady that laid the egg: