Mar 20, 2010
We are budgetting about RM30,000 to complete this plan to produce about one ton of 100% grassfed, certified organic cabrito per year. Targetted wholesale price for one kg of cabrito meat will be RM80.00 but will be selling on a per carcass basis. We may consider butchering at a later date and if we do that, the average pricing will be higher. The meat will be certified and will have lab tests to prove high omega 3 content with a guaranteed ratio of 4:1 or better for the crucial omega 6 : omega 3 ratio.
Click on the pic for a larger image.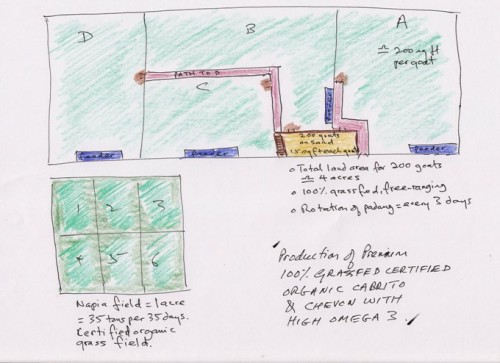 Cost of the goat house comes to RM5.00 per sq ft. The rest of the budget goes to fencing. The layout is not ideal of course but reflects the lay of the land and the fact that we are not 'touching' the land by way of leveling etc. We work within the contraints of the landform which adds to the cost a little.
The rotation every 3 days is to avoid the need to constantly deworm in our humid climate and also to allow the land to recover faster as the land is planted with mature fruit trees. The food for the goats will come mainly from the napia that we are growing seperately and then harvesting them to feed to the goats.
Of course it is not as easy as what have been outlined here. Cultural practices will have to be implemented to ensure goat health, reasonable weight-gain and low mortality.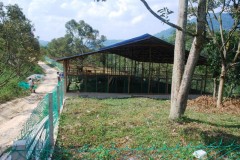 Progress as at April 16. Another two weeks, the goats will be in their new home.
(Click for larger view).