Apr 11, 2010
Red Ginger (zingiber officinale var rubrum) has a sharper taste and is more aromatic than normal ginger. Though cultivated, it can also be found growing wild in the jungles.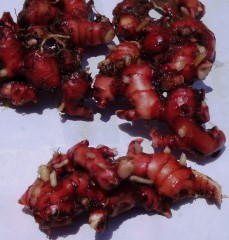 If you are a lover of the taste and aroma of ginger in cooking, then the red ginger is something you must try.
Here's red ginger in apple cider vinegar. The red color seeps into the vinegar and is preserved by the acid. Fresh red ginger exposed to light will fade within hours.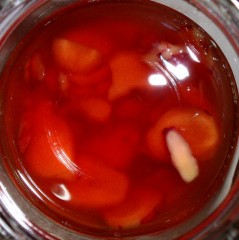 The red ginger has excellent anti-inflammatory properties and is especially effective for those with chronic inflammatory problems such as arthritis, carpal tunnel, etc. Drinking just a finger on alternate days will do wonders for your aches and pains. Here's a study: http://www.ncbi.nlm.nih.gov/pubmed/20136450
At the farm it is part of a very important tonic which we feed to the chickens when they are doing poorly. The ginger also has strong anti-bacterial activity.
The red ginger is very effective in bringing down high blood pressure. Take two thumbs, blend with some sugar and then heat it up to just below boiling point for a minute or two. Sieve, and then sip slowly like a tea. Relax, after an hour measure your BP. You will be surprised!
Note that to 'cure' HBP, a holistic approach must be taken. We are not advocating red ginger as a 'cure' for HBP. It should be part of a total approach and you should consult your health-care provider before embarking on any alternative medical treatment.