Sep 24, 2009
One of the biggest headaches in organic vegetable farming in Malaysia is weeds. The weeds just grow too fast; napia, as an extreme example can reach 5 feet in 30 days. And do not forget lalang! Some conventional farmers here lay the entire planting area with plastic sheeting. Heck, some commercial organic farms do the same!
Weeding is back-breaking work especially for those new retirees who dream of establishing an organic farm: your back is going to give up before your first harvest.
Raised bed is one answer. For the new farmer, you can use an expandable raised bed design that we have developed to suit our local conditions and needs:
1. To increase your production capacity as your sales increases.
2. To reduce labour costs
3. To reduce weeding costs
4. To reduce dependence on machinery
5. To ensure long term soil fertility
6. To eliminate digging and tilling of the soil
Soil fertility has not been a problem with us using raised beds. Earthworm population remains high. And replanting by crop rotation and continuous adding of compost into the raised beds keeps production at optimum levels harvest after harvest.
This is the expandable raised bed design developed by us based on designs developed by permaculturists. The keyhole and curved edging allows for maximum utilisation of space, and it looks good compared to straight rows of beds.
(Click for close-up):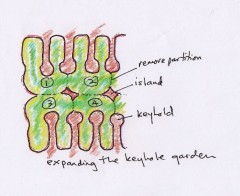 Start with Bed One, expand sideways to Bed Two.

You can continue expanding sideways or you can expand longitudinally to maximise a sprinkler system, for example. Parti-walls can be removed or retained, depending on circumstances.
Bed One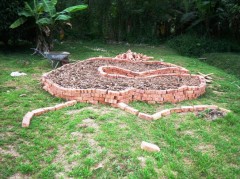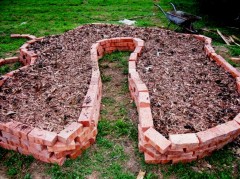 Close up of bed One. You can reach half of the bed from within the keyhole and the other half from the outside edge of the raised bed.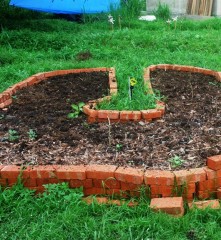 How about that? After one month, still no weeds (well, if you can call those few pathetic sprouts, weeds). Notice how the top layer has changed to a darker color over the month. This is indicative of earthworm activity.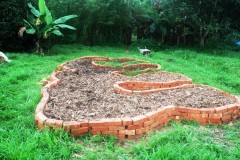 Adding Bed Two after one month
It is preferable to use stones or discarded bricks and concrete blocks to make your raised bed walls ( I make it a habit nowadays to stop at demolition and construction sites to pick up old bricks, etc). It is a one-time investment in labour and costs, and lasts forever as opposed to bamboo, timber, etc. Remember that in Malaysia, labour costs are a large component of your production cost and you do not want to incur labour costs repeatedly for the same thing.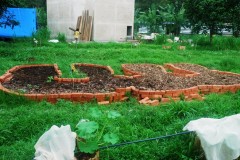 (Click for close-up)
Another view: Beds One and Two, expanding laterally.
Now that we have demonstrated that even after 30 days there is no weed problems, we have started sowing Bed One with 3 different varieties of vegetables and in Bed Two, a wild amaranth (bayam pasir), a personal favourite. Go for heritage seeds when you first start out. They will do very well on compost and raised beds, have less disease and insect problems and will be very forgiving of your mistakes.