Jul 26, 2010
The mulberry tree (morus alba; pokok daun ulat sutera; chinese: sang shu ) has a long history ( 3000 years ) of medicinal use in China, Korea and Japan.
Sinseh Soon from Raub came to the farm for a 'look-see' and told us about the medicinal uses of the tree, under which he was resting.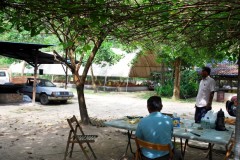 Sinseh Soon and farm director, Pak Cik Razaly seen here talking about the uses of the mulberry tree under its leafy shade.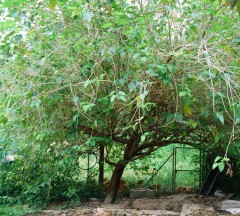 Used as a shade tree for chickens.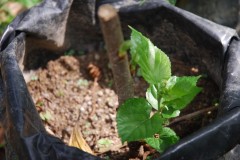 Easy to propagate, just stick a cutting into some soil.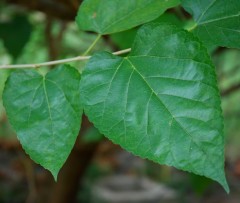 Boil the leaves (
sang ye
) for 20 mins for a 'cooling' tea. Boil with
goji berries
( go to the Chinese herbal store and ask for kei ji ) to improve eye sight. Boil with Chinese
red dates
to detoxify kidneys and to promote urination.
The bark ( sang bai pi ) is used to strengthen the lungs and to relieve nasal congestion. To make:

Scrape off the thin outer layer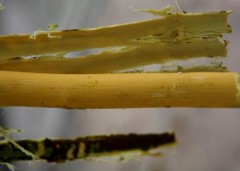 Pound it and strip it off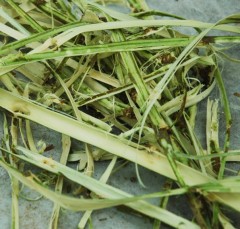 Ready to use. Dry well to store. Boil and reduce by 50% before drinking.
The wood ( sang zhi ) of the stripped branches is used to relieve bodily aches and pains.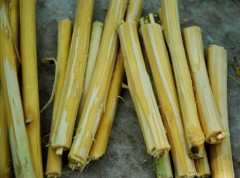 Dry the wood to store.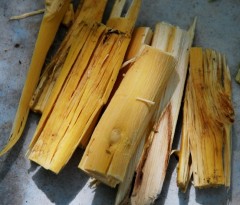 Pound and boil to reduce by 50% and drink twice a day to relieve bodily aches and pains.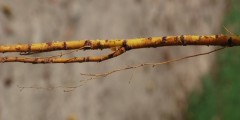 The roots can be boiled and reduced by 50% to relieve gout and to relieve 'masuk angin' pains such as rheumatism.
Olden days, families used to boil the roots or twigs with poultry meat for a health promoting soup. Olden days, food is prepared and consumed according to health requirements - to balance yin and yang, to 'warm' the body during cold months, to improve blood flow, to enhance 'qi', etc. Rainy humid seasons will have their food, dry hot seasons, theirs.
Food now is looked at differently. It is no longer to promote health and to strengthen one's body. It is to satisfy appetite and taste-buds.