Apr 28, 2010
Wild boar is a perpetual problem at our farm. They break through fencing and get at the chickens, they dig up all those lovely yams and sweet potatoes, they damage our vegetable plots digging up earthworms for desert.
All kinds of suggestions have been given to us; shoot them, poison them, trap them, etc. We reject outright killing. Trapping, etc never works; they're too wary.
Then they played with this beautiful pegaga patch and turned it into a mud-bath: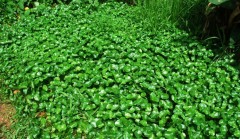 We were too distraught to remember to take a picture of the mud-bath.
We rehabilitated the patch twice but each time the pigs came in and turned it into mud again.
Then we sat and decided to think like a pig: it's dark, we can't look upwards to see the sky, we can only see directly in front, sideways and down. Now what if we see something totally dark in front would we be foolhardy enough to plunge ahead or would we move sideways looking for a path?
And we came up with this: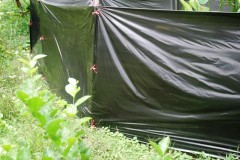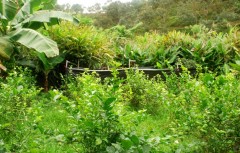 This was how the rehabilitated patch looked like after a week in the 'dark zone' (the red laterite mud has been topped with compost):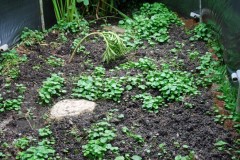 And this is signs of the pigs going in circles around the 'dark zone'. Note the mud!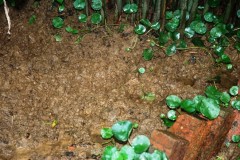 And this is the patch today after two weeks. Warms the heart. The possibility are endless! And we don't have to take a life or lives to co-exist. Remember, a life is still a life.