Apr 06, 2012
Vancomycin Resistant Enterococci (VRE) is often indicative of antibiotic abuse. Farms that use sub-therapeutic antibiotic continuously may have animals that harbor VRE.
VRE have been found in many countries in poultry meat, pork, beef, milk and cultured fish.
VRE poses a potential public health threat.
In 2005, our country reported a case of Community-Acquired Infection (CAI) of VRE. The report is here.
The point of infection is speculative in the report, but it does raise the red flag in so far as the possibility of CAI of VRE is concerned, in our country. This means that the possibility of infection have now moved out from the hospital environment to the community.
In the light of the possibility of community acquired infection of VRE, responsible farmers must do self-monitoring and self-testing to prevent selling meats that are infected with VRE.
All our poultry are tested to be free from Salmonella Enteritidis and VRE before processing. Here's the test results on VRE in our recent samples sent to the lab :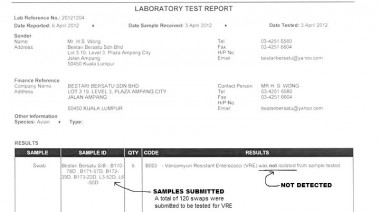 Click on table for close-up
VRE infection is especially dangerous for those who are immune-compromised, e.g. cancer patients, those with heart problems, kidney problems, etc.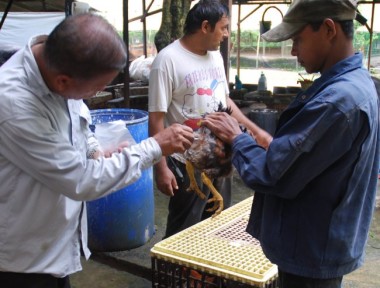 Farm manager Razaly taking a swab.
Preserving the samples in BP Water.
Testing samples from the farm is essential to ensure result integrity as samples from processed chickens may reflect cross contamination during handling.