Nov 28, 2010
Most farms in Malaysia would have earth drains. Earth drains are cheap and quick to construct and allow rain water to seep into the earth as it makes its way to the rivers. Meander the drains to give the water even more time to infiltrate. It is one way to reduce flash floods during heavy downpours. Properly positioned earth drains will reduce erosion especially during our heavy monsoon down pours.
Pandan alongside an earth drain
One way to fully utilise the nature of earth drains is to plant water loving food plants along its course. To prevent the plants from blocking the flow during heavy downpours, we just add little inlets along the sides and in this instance, plant pandans (pandanus amaryllifolius) and keladi (colocasia esculenta ) in the inlets. The only maintenance is to quickly replant new shoots to prevent a clump from being formed (which will block the drains).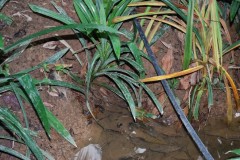 A plantlet quickly inserted into a new inlet to prevent clumps from being formed
Pandan leaves are used in aromatic Asian cooking and are always in demand by buyers.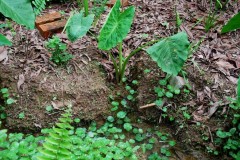 Keladi being planted in inlets along the earth drain
Keladi tubers (taro) fetch a good price. At our farm, we grow the keladis with zero input - no pesticide, no fertilisers, etc are needed. When keladis are grown in wet earth, the tubers are twice the size of those grown on soil and watered.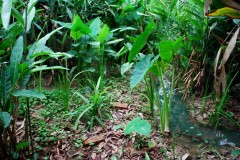 Keladi producing edible tubers with zero maintenance. The picture shows permaculture features like mulching, companion planting, avoidance of monoculture, and fitting food cultivation to the character of the land, here, land with high water table.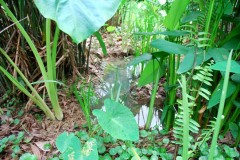 More keladis and some edible ferns, which also love water.