Jan 19, 2009
Mystery Bird Cont.
Today I captured the mystery sound in audio video. I am trying to add a link here and I hope it works as I am doing it the first time.
Here goes:
The recording comes out a bit tinny and does not do justice to the actual sound. Perhaps if you up the bass and the mid range, you might be able to get a closer approximation of the sound.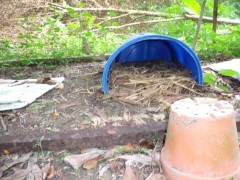 The sound was coming from this nest I build for the chickens to lay eggs. The edited video containing clips of the sound is only about 20 secs long. The actual unedited video is 19 mins long - way too long to upload on this blog.
If anybody wants to view the full 19mins, you can email me. The video will show me shoving a stick around the inside of the nest and you will see nothing, zilch! Then suddenly, the mystery bird sound from thin air. Enjoy!
The flower pot you see here is where I placed my video cam to record the scene.