Apr 04, 2009
Useful Plants At The Farm- Derris elliptica or Tuba
Tuba root has long been used by the 'Orang Asli' to fish, as it is a piscicide.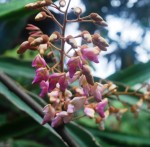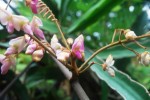 As we can see from the pictures, the plant has arresting flowers.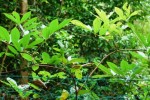 It is a creeping and climbing vine.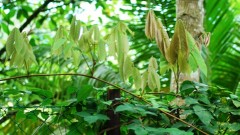 It is a wasteful method of fishing as all fish, big or small are wiped out within minutes. Thankfully, very few 'Orang Asli' are using tuba roots nowadays and in fact, some do not even know how to identify it.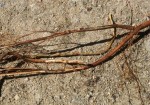 The root of the tuba.
In the farm we grow it for use as an insecticide. It is the only local plant that we know of, that's truely insecticidal. The rest are repellents. For many years, organic standards permitted the use of rotenone, the active ingredient in tuba root against insects. That has now been withdrawn.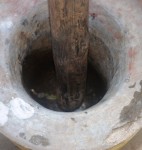 Pounding the root.
We do not use tuba on vegetables or fruits, but on roots and trunks of non-fruiting trees and ornamentals that are attacked by tough borers etc. The withdrawal of its use in organic farms is because of concern over its safety after scientists injected the active ingredient, rotenone, into the blood stream of rats and which resulted in Parkinson's-like symptoms in the rats.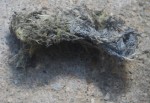 The pounded root will be squeezed in water to make an aqueous extract of the active ingredient, rotenone.
The milky aqueous extract ready for use.
Quote from Wikipedia, "In 2000 it was reported that injecting rotenone into rats causes symptoms of Parkinson's disease to develop. Rotenone was continuously applied over a period of five weeks, mixed with DMSO and PEG to enhance tissue penetration, and injected into the jugular vein.[12] " . Citation [12] here refers to : Caboni P, Sherer T, Zhang N, Taylor G, Na H, Greenamyre J, Casida J (2004). "Rotenone, deguelin, their metabolites, and the rat model of Parkinson's disease". Chem Res Toxicol 17 (11): 1540–8.
One would think that would be expected injecting toxic stuff into the bloodstream. Anyway, as an organic farmer, it is better to be on the safe side and cease from using tuba on edibles. The tuba extract does not remain in the environment and is totally detoxifed in 6 to 7 days, being degraded by sunlight.
In the farm, though rarely used, it is nonetheless a useful plant to have.