Feb 17, 2011
Four Year Old Lempoyang ( zingiber zerumbet )
These are four to five year old lempoyang from our farm. You can call Suria if you wish to purchase them: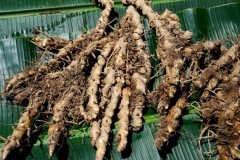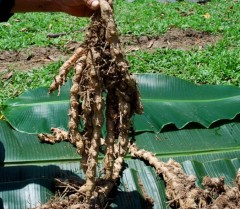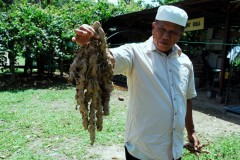 Farm manager, Haji Razaly with a bunch of 4 year old lempoyang rhizomes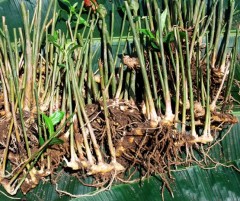 Younger rhizomes (above picture) similar to those sold in the markets are used by us for replanting. Older rhizomes are used by us for health supplementation purposes.
Here's a research paper on the anti-inflammatory effect of lempoyang :
http://www.ukm.my/rsenr3/rsenr1/P516-520.pdf
The aqueous extract is as effective as reference NSAIDs.
We use the lempoyang as part of our anti-inflammation diet at a dosage of 5 to 10 grams twice a week.
Here's a Bernama report on the effects of lempoyang on cervical cancer:
http://web3.bernama.com/education/newsr.php?id=557690
Readers of this blog please note that the report refers to laboratory results on laboratory animals. Results on humans may differ significantly. Extracts from many plants of the ginger family have been found to have cytotoxic effects on cancer cells in the laboratory but these does not necessarily translate to a cure.