Jun 28, 2011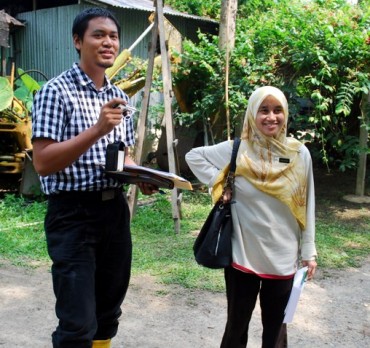 Puan Norazlina, Head of the Agricultural Department, Bentong and Mohd Noor Azlan, Malaysian Organic Scheme auditor, together with their support staff, conducted a compliance audit of the farm today.
Jun 26, 2011
You certainly would not expect to find a waterhen nesting right next to a path that's used daily: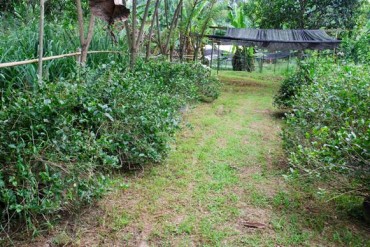 Much less, above ground, in a bush. We have always found them on the ground, next to water: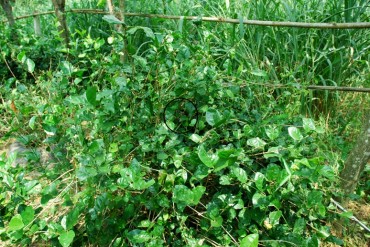 The black circle marks the spot where she's peering at us. Click on pic for larger view
Close up of the wary mother: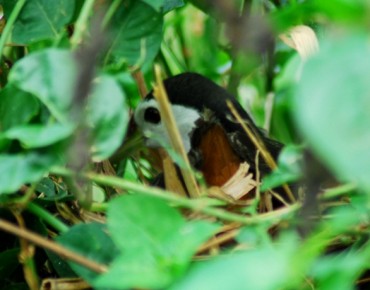 Click on pic for larger view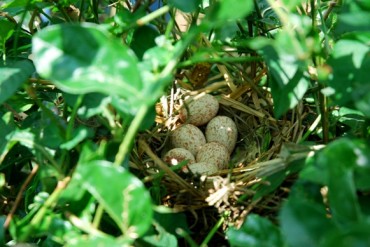 Clutch of six eggs
This can only happen when the mother feels more comfortable nesting near humans than in her natural environment which unfortunately, lately, has more monitor lizards and snakes than usual because of the growing eel population. We are studying how to rebalance the micro-ecology there.
Jun 21, 2011
A surprise distinguished visitor dropped by.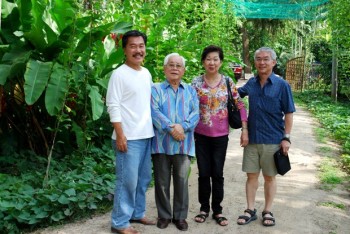 Tan Sri Tan Lai Kim, Puan Sri and son, Edmund
It is always a pleasure to see successful developers who are also into sustainability.
If we truly mean them no harm, they lose all sense of fear....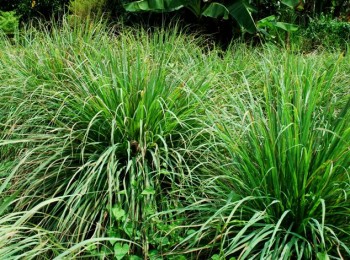 They will nest anywhere, here, in a serai (lemongrass) bed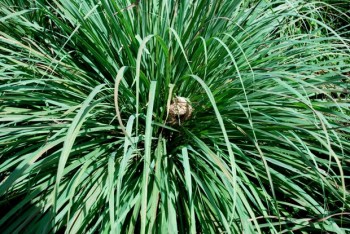 Close up of the nest in a serai (lemongrass) clump.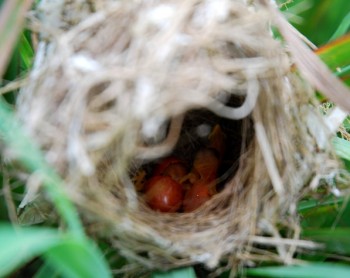 Three red eggs hatching out. The color of the new hatchlings the same red as the eggs. We have yet to id the bird.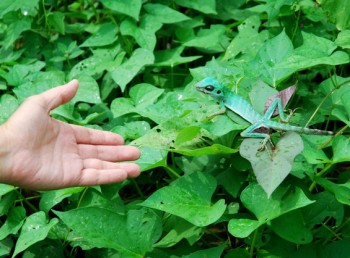 A crested lizard with a more turquoise coloring than the normal green. It's more curious than fearful of our hand. Occasionally they will just land on your head or shoulder as you walk under a tree. The farm is a sanctuary of sorts for them and other lizards.
PS found this old pic demonstrating what we mean: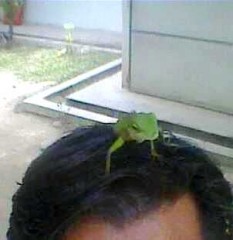 Curious visitor from the tree under which we were having lunch
Jun 05, 2011
Our workers come from distant villages in the Himalayas. They come of course to earn much needed hard cash. But more than that we make sure they return home with new knowledge and skills to increase productivity without resorting to chemicals. When they achieve competency in a specific area, they get a certificate. Our farm have a long list of Nepalese who want to work for us.
Here's Santa Kumar receiving his competency certificates from Pak Cik Razaly the farm manager. Looking on is the farm supervisor, Dilli Prasad.
Santa received his certificates in composting and in marcotting.
He showed that he could independently produce compost on a schedule so that supply is never cut off. He could ensure that temperatures are reached so that pathogens are destroyed. He always gets the carbon: nitrogen ratio right.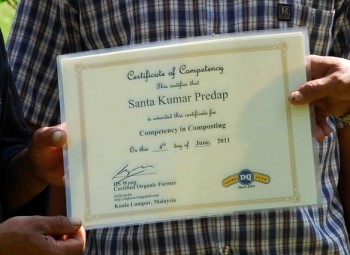 Certificate in composting
He does marcotting of fruit trees independently with no supervision and has close to 100% success.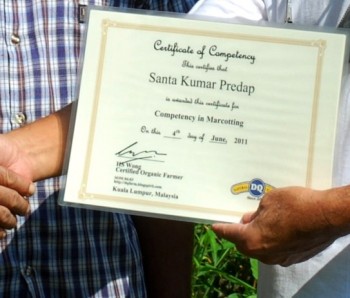 Certificate in Marcotting
We award certificates for competency in a wide range of farm work – from taking care of specific crops, for example, sweet potatoes, spinach, etc., to making high quality cement posts, to poultry necropsy and disease identification.
When they return to Nepal, they can either be better farmers, or they can use the certificates to train others or to earn better wages from their next employer.