Apr 13, 2009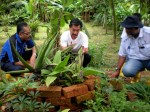 Datuk Dr. Azahar Idris, the Director of Veterinary Services for Pahang dropped by on a surprise visit. Here he is shown how composted chicken litter can be used as a planting medium and as fertiliser.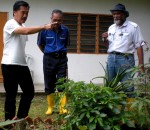 Nothing is wasted in DQ Farm, carcasses, litter, etc are all recycled to produce healthy vegetables, fruits and herbs.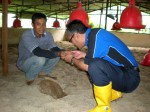 Sorry Datuk, no exceptions! All visitors have to smell this 7 year old litter.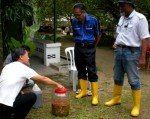 And from the herb garden, a fermented mix as a preventive and tonic for the chickens.
Yesterday, April 12, Selina Gan, MD of Country Farm came visiting with her family and senior staff.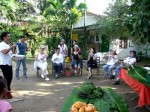 Overview of a sustainable farm - 1 + 1 = 10!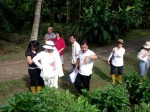 Inspecting the herb garden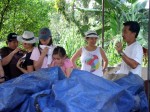 They were expecting some foul smell from the carcasses, dung, and stuff.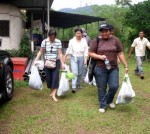 Taking back bags of charcoal to fertilise their home gardens, and to bury some carbon!
Apr 06, 2009
Nutriheal, an organic shop in Kota Kemuning organised for some of their customers to come to the farm for a visit yesterday, April 5th.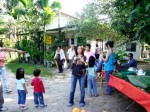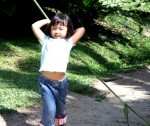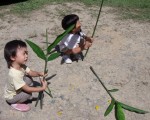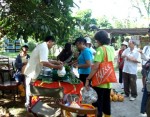 We were a little upset to see so many children, as DQ Farm is a working farm and we do not run a seperate "demo" farm. What-You-See-Is-What-You-Get. In our farm, you are going to have weaver ants (Oecophylla smaragdina) , bees, killer wasps, 7 inches centipedes and cobras to name a few of the worries we have with kids around.
Weaver ants build huge nests the size of footballs in our durian trees. We do not get rid of them as they protect our fruits from insect and animal damage. But on occasion, a huge nest will just drop down for no reason whatsoever, and if it were to land on a kid...!
On top of that, we are continously running our retort to make biochar and I shudder to think what will happen if a kid were to place his palm on the 400 degree celcius surface of the retort.
We hope future visitors follow our instructions strictly and not bring kids. It is just too dangerous!
Mar 15, 2009
Retailers and customers of DQ Chicken came to the farm today to see for themselves how the farm is managed, and the farming methods used.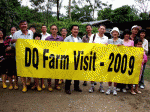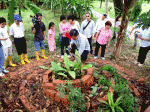 The herb spiral drew interest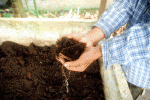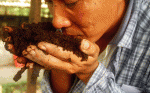 For the priviledge of visiting the farm, you have to smell this compost made of dung, carcasses and dried leaves and branches.
You also have to smell a still used chicken litter that has not been removed for 7 years, from one of the coops.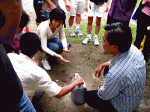 Feeling the Qi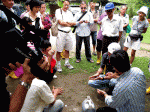 Looking for Qi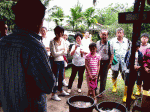 Qi Tea for spraying on plants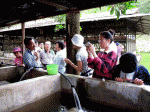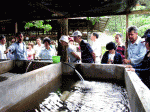 High productivity aquaculture - one tiny pond such as this can fetch a revenue of RM10,000 per cycle of 6 months.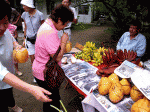 Then fruits from the farm for everybody.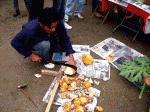 Coconuts to quench your thirst after a hot day walking around.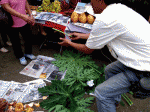 Here's a straw from a papaya leaf stem to drink your coconut water with.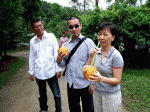 Yummy, perfect end to a hot day.