Jan 10, 2010
Curcuma mangga is also known as white turmeric. It tastes like a mango, hence the name 'mangga'.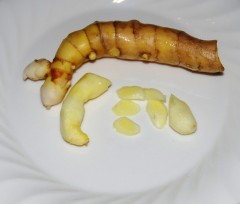 The rhizome with skin and without.
Researchers have found anti-tumour activities from extracts of the rhizomes. On a personal basis, we have found it to have strong anti-inflammatory effect and we have incorporated it into our diet on a regular basis, either as a ulam or salad, or as a drink.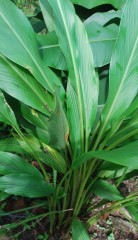 The plant can reach about 5 feet high.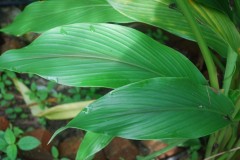 Close up of the leaf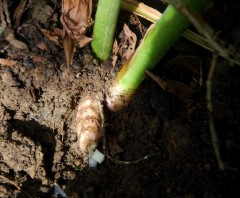 At the farm, we gather the soil around the roots and rhizome and make a foliar spray to combat fungal infections on plants.
Take one part soil, one part molasses, and 4 parts water and aerate vigorously for 10 hours.
Use twice a week on plants with signs of fungal attacks.