Jul 25, 2009
The farm produces some grey water - from the workers' quarters, from when we wash the rebans, from overflow from the fish ponds.
All grey water is fed into a mini wetlands; first into a large pond planted with aquatic plants, then led into a biological filter using microbes before being led into a mini wetlands made up of slow flowing meandering channels planted with more aquatic plants.
The entire zone is planted with water-loving, edible plants - bananas, papayas, pumpkins, misai kuching, galangal, pegaga and various tubers.
Before discharging into the river, the water goes through a charcoal filter from charcoal made within the farm (click on the picture for a larger view):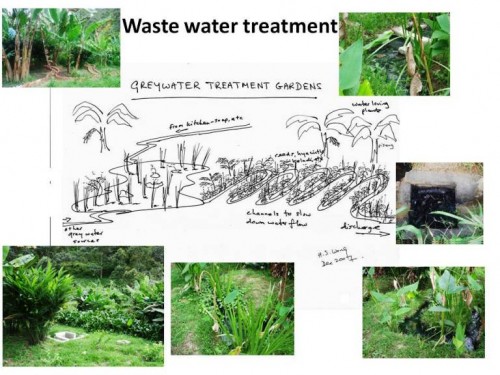 *note: the biological filter and charcoal bed are not in the drawing. They were added during construction.