Aug 22, 2005
Minister visits our farm, August 17.
Deputy Minister of Agriculture, Dato' Seri Haji Mohd Shariff Bin Haji Omar came with some friends to our goat farm on August 17, 2005. This was his second visit. We suspect part of the reason is the delicious cabrito curry which we served once again for lunch.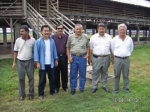 Also present were directors of Gema Padu Sdn. Bhd., the major shareholder of the farm, including the Group CEO, Mejar (Rtd) Ng Bon Chong. Gema Padu is developing a 600 acres township at KLIA.
HS Wong gave a talk on our method of goat rearing and future plans.
For pictures of the visit, click:
http://dqfarm.blogspirit.com/album/visitors/page1/