Sep 27, 2005
Olive Oil Chickens?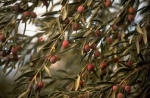 We all know the benefits of olive oil. At DQ, we are now experimenting with feeding olive oil to our chickens to see if we can increase the monunsaturated fats content for a healthier meat. Some of our customers had complain that our chickens are too dry and tough. We are doing research now with olive oil to see if we can achieve a chicken with more fat but fats of the right kind. That juicy, "smooth" chicken sold at the chicken rice stalls is full of those saturated fatty acids that have been implicated in heart disease, and full of omega 6 that have been implicated in many chronic diseases. See our previous post on Lab Tests.
Here's an article on the latest findings about olive oil:
"A compound found in olive oil called oleocanthal fights inflammation in a manner similar to ibuprofen, inhibiting the cyclooxygenase enzymes involved in pain and inflammation responses. The amount of oleocanthal obtained from daily olive oil consumption would elicit a much smaller anti-inflammatory effect compared to medication, and more research is needed to determine whether olive oil consumption has any clinical effect on inflammation. However, some researchers speculate that the heart benefits of a Mediterranean-style diet, which includes ample amounts of olive oil, may be due in part to the anti-inflammatory properties of olive oil. The inflammation of tissues, such as those of the vascular system, plays a role in the development of heart disease. A great way to add olive oil to your diet is to replace creamy salad dressing high in saturated fats with a drizzle of olive oil and balsamic vinegar. "