Apr 14, 2006
Nature Q-Farming
This bush of creepers were all green. Within two weeks of spraying our bio-nutrients, it started to flower abundantly.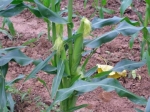 Our high Qi compost and compost tea produces abundant crops without the use of chemicals. Here is a maize plant with four ears after we sprayed our tea. This particular type normally have one or two ears. The plant is only about 3 feet high.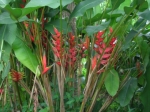 Even heliconias at our farm flower incessantly and in abundance.