Apr 14, 2006
Sustainable Agriculture
We try to be as sustainable as possible at our farm. We don't use electricity, minimise the use of diesel ( we are experimenting with our own bio-diesel), and minimise inputs into the farm.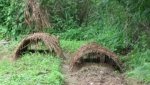 Here is how we shade seedlings from the sun - no plastic sheets, etc., just some branches and good old dried lalang.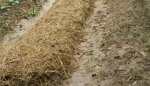 Some farmers grow mushrooms and sprouts on sawdust and claim the products to be organic. Well, it is not. The sawdust comes from treated wood.
We use dried lalang. Sometimes we shred the lalang, depending on the requirement of what is planted.
You can contribute to sustainability by buying local. Buy from farms near to you. This reduces tranportation fuel. Imported fruits tastes great, but a lot of fuel was burnt bringing those delicious strawberries to you. The fruits may be cheaper than locally grown to you as a consumer, but the costs to the Earth is more. The price you pay reflects the subsidies most governments give to farmers either directly or indirectly. Put back the subsidies, add the fuel costs, etc. and you will see a totally different picture - one that cannot be sustainable in the long run.
Sustainable farmers like DQ do not use subsidies. We use what nature provides.