Aug 27, 2007
Hot Food For The Homeless
Working with and sponsored by Dapur Al-Masyhur, www.al-masyhur.com
On August 26, 2007 we had our inaugural 'Hot Food For The Homeless' kitchen at Bukit Bintang. About 20 homeless came.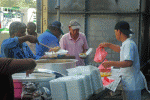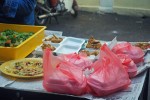 Volunteers helping out
A sampling of the dishes - chicken curry, fried eggs, hot rice, stir-fried vegetables.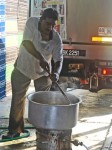 Volunteer chef, Devan
Every time you buy "DQ" and "Al Masyhur", part of your purchase will go to feeding the homeless and needy, including old folks homes, ophanages, and others. In the near future, your purchase will go into starting micro-farm projects among rural farmers.
Contact Dapur Al Masyhur at bestaribersatu@yahoo.com