Sep 03, 2007
Hot Food for the Homeless - cont
Working with and sponsored by Dapur Al-Masyhur, www.al-masyhur.com .
Here are more shots of hungry homeless folks being served hot food on Sept 2, 2007: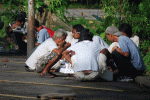 Sorry, we do not have tables and chairs.....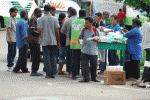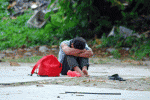 Early bird, waiting...
Your purchase makes this possible. Next, hot meals to old folks homes, ophanages, etc.
If you know of homes or shelters needing our assistance, please email : bestaribersatu@yahoo.com