Sep 09, 2009
Black Curcuma / Black Turmeric
We have this very delicate small curcuma (barely a foot tall) that produces a completely black rhizome.
It is clearly not temu hitam or curcuma aeruginosa roxb. The temu hitam plant is larger, more robust and the rhizome is only slightly bluish. The leaves of the temu hitam have a purplish spine and the flower is reddish, pinkish.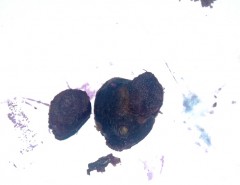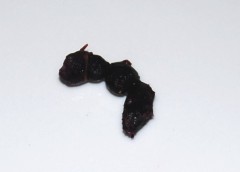 Click for close up
The completely black / deep purple rhizome.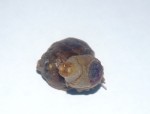 Click for close up
The rhizome before removing the thin skin.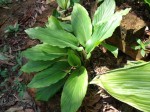 It does not seem to be curcuma caesia or Kali Haldi (click on word for wiki article) which looks like curcuma aeruginosa.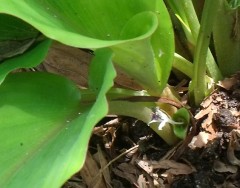 Click for close-up
Anybody knows the scientific name for this curcuma? I have not been able to find any reference to it.
NOTE 22/7/2012 : TWO READERS OF THIS BLOG, ONE FROM HAWAII, AND ANOTHER FROM LANGKAWI, PAK DIN, http://herbwalk-langkawi.com.my/thewalk.html HAVE IDENTIFIED THIS PLANT AS Kaempferia parviflora, A PLANT FOUND IN NORTHERN THAILAND AND USED EXTENSIVELY FOR TRADITIONAL MEDICINE. THANKS TO BOTH FOR HELPING OUT.
THE PLANT WAS FOUND IN A FOREST NEXT TO OUR FARM. WE TAKE NOTE THAT THE FOREST IN QUESTION IS BOUNDED ON THREE SIDES BY FARMS AND ON ONE SIDE BY A FOREST RESERVE. WE CAN ONLY SPECULATE HOW IT WAS INTRODUCED INTO THE FOREST, THOUGH WE MUST ADMIT IT SEEMS EXTREMELY WELL ADAPTED TO THE CONDITIONS LOCALLY AND WE HAVE NEVER SEEN ANY DISEASE AFFECTING THE SAID PLANT.