Jan 31, 2011
Fixed houses (reban) where the chickens come out to range and go back in at night is not a good solution to free-ranging slow growing breeds in our wet, humid climate. As the chickens can take up to 100 days to reach marketable size, the area around the house would be foul in no time.
The solution is a movable tent, and fenced fields to keep moving the chickens onto fresh grounds.
These are how the fields look like in our farm: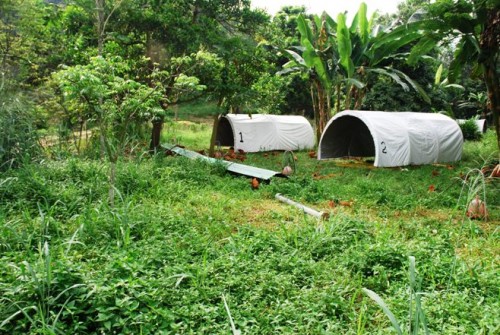 These are the steps:
1. Fence up the area: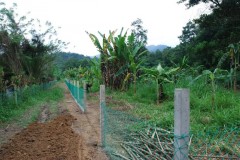 To save costs, make your own concrete posts. If you don't know how, learn. It's a skill worth learning. Wooden posts in Malaysia means cutting of jungle trees, termite problems, wood rot, etc. Concrete the bottom of the fence to keep out pigs. You can lose up to 30 chickens per night from a small family of pigs.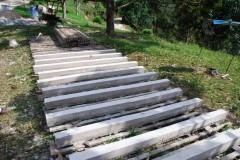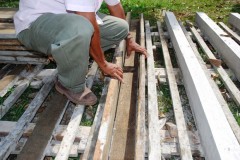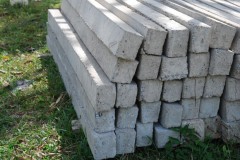 2. Make your own field feeders and drinkers: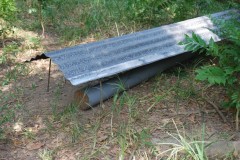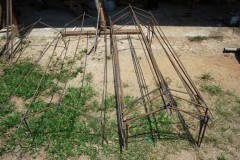 You can't be a farmer without basic bar-bending and welding skills.
3. Have a stationary seine-net like area for catching the chickens: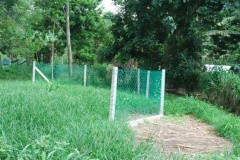 We generally can have an area up and running for 1000 chickens within 10 days - two hoop houses, 30 field feeders, water tank and self-made line drinkers, and fencing and posts for an area that's equal to half an acre ( the grass will last about 20 days, then you have to shift the chickens to the next field. If you don't, the chickens will start having health problems).
Jan 27, 2011
We hit upon a clump of withered curcuma plants with dried yellow leaves, in the forest next to the farm. This is what we pulled out from underneath the plants; easily a kilogram :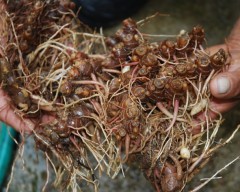 Close up with one of the rhizomes sliced opened.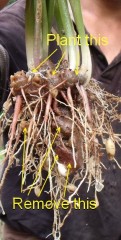 click for close up
This is how you propagate the black kunyit fast. Remove the rhizomes that extend down into the soil to use, and split those above to plant.
NOTE 22/7/2012 : TWO READERS OF THIS BLOG, ONE FROM HAWAII, AND ANOTHER FROM LANGKAWI, PAK DIN, http://herbwalk-langkawi.com.my/thewalk.html HAVE IDENTIFIED THIS PLANT AS Kaempferia parviflora, A PLANT FOUND IN NORTHERN THAILAND AND USED EXTENSIVELY FOR TRADITIONAL MEDICINE. THANKS TO BOTH FOR HELPING OUT.
THE PLANT WAS FOUND IN A FOREST NEXT TO OUR FARM. WE TAKE NOTE THAT THE FOREST IN QUESTION IS BOUNDED ON THREE SIDES BY FARMS AND ON ONE SIDE BY A FOREST RESERVE. WE CAN ONLY SPECULATE HOW IT WAS INTRODUCED INTO THE FOREST, THOUGH WE MUST ADMIT IT SEEMS EXTREMELY WELL ADAPTED TO THE CONDITIONS LOCALLY AND WE HAVE NEVER SEEN ANY DISEASE AFFECTING THE SAID PLANT.
Jan 17, 2011
Sweet potatoes are ideal for the beginning organic farmer and the beginning permaculturist. It is an undemanding crop and do not require high nitrogen inputs ( which equal to less costs and less disease problems).
If you are trying to earn some extra cash, then grow the purple colored varieties as they fetch a higher price and is always in demand (because of its higher antioxidant content). Organic shops will buy them off you anytime.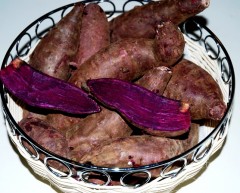 To grow them, start a nursery with tubers ( of the quality and variety you want ) as follows: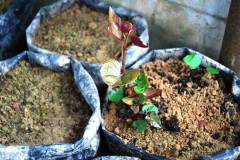 This one uses a conventional black nursery poly bag.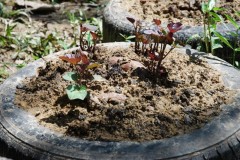 Here we use discarded tyres from tyre shops at no costs.
Instead of a nursery, you can also use cuttings from fully grown vines from existing sweet potatoe patches (so long as you know the quality).
When the shoots or slips, as they are called, are about 8 inches long, snip them off and plant to soil.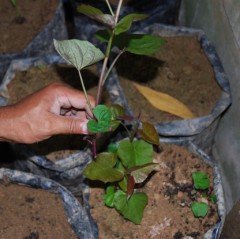 The slip is snip off to plant. The tuber will continue to provide slips for months.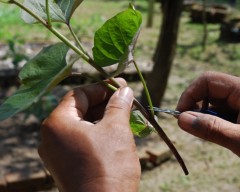 Snip off the lower leaves before planting.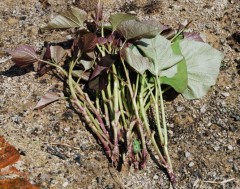 Bunch of slips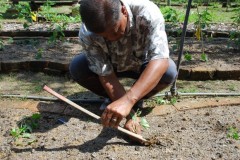 Insert the slip into the soil at an angle using a bamboo or a piece of wood.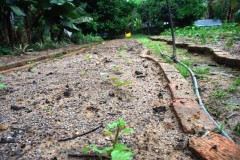 A planted bed.
Raised beds are preferred. Use sandy soil. Do not fertilise with high nitrogen fertilisers such as chicken dung. Use vermicast, compost or humus. Sweet potato is ready for harvest in 4 months (depending on variety).
The home gardener or small-scale farmer can start a nursery in one tyre and then plant individual slips in seperate tyres as follows: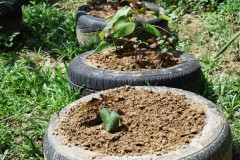 Planting in tyres as raised beds to make use of land with bad clayey soil at the farm (click on pic for close up)
Each tyre will then produce one crop of sweet potatoes and you harvest as and when you need them.
At our farm, we also plant sweet potatoe as a living mulch: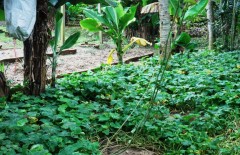 Jan 10, 2011
Edible ferns have been enjoyed for thousands of years by rural folks. It is now making its way into gourmet restaurants and urban kitchens. If your farm have earth drains, then edible ferns can be an extra source of income with almost zero costs. Just make sure that your water source is pristine as ferns are good absorbers of heavy metals.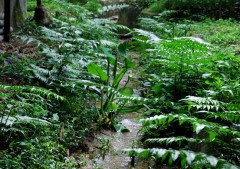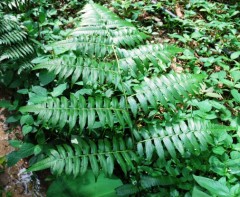 This one, diplazium esculentum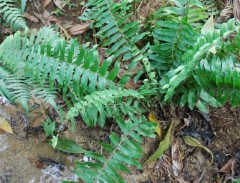 Not this one. Note the difference in the branching.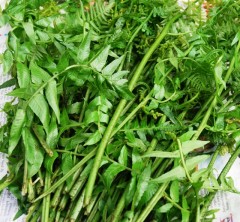 Edible fronds and young leaves.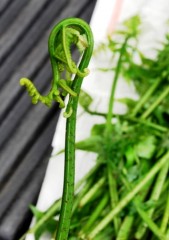 Edible fronds
Edible ferns are delicious stir-fried with sambal belacan, or just dried anchovies, or plain garlic.
Jan 03, 2011
The way to handle them is to bundle them in a sack and release them far, far away....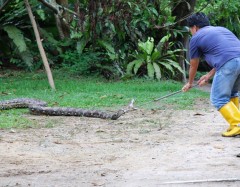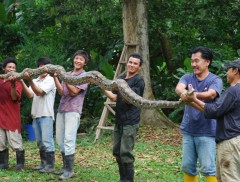 16 footer, 90 pounder (40kg) being manhandled by bouncers from Nepal.