Jul 11, 2005
Dragonflies
A visitor to our farm, who loves dragon flies, mentioned that he saw a couple of rare species among 20 odd species he found in the farm. The chemical-free environment at our farm provides a perfect home for them.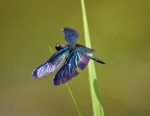 Here we are trying to keep an album of dragon flies at our farm. When we find out more about them, we will name them. To see photos of these dragon flies as we add them, click at our dragonfly album or the link below:
http://dqfarm.blogspirit.com/album/dragon_flies/
Here's a link for some FAQs on dragon flies:
Jul 10, 2005
Lovely Wild Yeasts, Fungi and Moulds
Here are some lovely wild yeasts, fungi and moulds which we captured from the forests to be included in our consortium of microbes that will be sprayed on our plants and fields: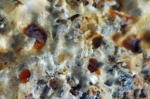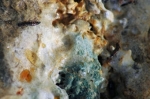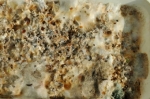 The forests are full of our allies; for our agriculture, for our health, for the environment. Day by day our allies are getting less and less due to our own action. We are blind followers of the anti-microbial cult perpetuated by advertisements - we spray disinfectants everywhere, indiscriminately, and are exterminating both friends and foes.
Jul 05, 2005
Some Questions from Customers....
These are some of the comments received over the phone from our customers lately; and our answers:
Cust: I bought a ayam kampung for RM16, weighing two kilos and it is not only cheaper, but sweeter.
DQ : There are no 2 kilo ayam kampung ("malai kai"). You paid for a brown feathered chicken, most likely male; females will sell for around rm18 to rm20. For rm16, you paid for a male 2 kilo brown feathered chicken which is about 65 to 70 days old. It is not possible for this chicken to be "sweeter" than our chicken which takes 90 days to reach 2 kilo. You have a very susceptible mind and you have fallen for a sweet talking chicken seller.
Cust: I prefer to buy from a stall newly set up near our house. When we want a chicken, we just pop over and they will freshly slaughter the chicken for us. The chicken tastes better too.
DQ: Ma'am, we have lab tests to support our quality and nutritional claims for our chickens. Further, more than 80% of first tryers of our chickens consistently rate our chickens as having a superior taste. More, we process our chickens in a hygenic manner. And we raise our chickens with anti-salmonella protocol in place. Now, if you persist in buying your chicken from an unknown source (the seller is not the farmer), and have it processed in an unhygenic manner, well, what's there to say.
Cust: We bought a 2.8kg chicken for rm25 from the wet market and it tastes delicious. The seller says the chicken is raised on grains like oats, barley, etc. hence the taste.
DQ: We have been educating our customers to avoid grain-fed chickens due to the health implications of excessive omega 6. Our chickens are grassfed and have been tested to have excellent omega 6: omega 3 ratio. That 2.8kg chicken derives its taste from its age (about 5 months), not from the grains and the level of omega 6 omega 3 will be in the region of 50 to 60 to 1. DQ Herbal chickens have ratios of around 5:1 or less. Please don't talk to us again about grainfed chickens.
Of cos there are innumerable positive comments and feedback.
Jun 28, 2005
Successful Auction
Had a most successful auction of our boer crosses on Sunday, 26th June. We sold off 420 goats within 2 hours and all prices were met or exceeded. Buyers came from all over the country. We served them cabrito curry before the auction and they were really pleased with the quality of the meat and that perhaps gave them the confidence to bid.

Click here to see some photos of the auction.
Deputy Minister for Agri visited our farm
Yesterday, June 27th, the Deputy Minister of Agriculture, Dato' Seri Haji Mohd Shariff Bin Haji Omar, visited our farm to see for himself our method of farming called Nature Q-Farming.

Click here for pictures of the visit.

Jun 22, 2005
Qi - Compost
Today at Serting, Kuala Pilah we started making compost from the goat dung in commercial quantities. The sample heap that the staff made was heating up nicely. The heap was emiting very strong qi as a result of the application of WHS Purple-1, a blend of beneficial bacteria including PNSBs; the bacteria responsible for the emiting of the qi.
I opened the points of one of the workers and sensitised his palms to the presence of qi. He felt the qi from the heap immediately. He and one other worker will be responsible for "clarifying" the energies of the bacteria in new compost.
Hi-Qi Compost are used to make sprays, to splash on roots, as fertilisers, to condition new chicken litter, etc.
Boer Goat Auction
We are going to have an auction of about 200 breeder females on Sunday 26, June 2005 at our goat breeder farm at Serting, Kuala Pilah. We will also be selling about 200 males, commercial quality. Price for the males will be RM11 per kilo. Each male will weigh around 20 kilo.
The starting price for the females will be RM280 each to about RM600.
We are hoping to net sales of about RM100,000 from the event.

Jun 21, 2005
Bio Nutrients
I am really enthused with the quality of the bio nutrients that we are producing.  The amount of "qi" emanating from the liquid is amazing and plants sprayed with them seem to flower fast, faster than normal.   We were pleasantly surprised when our young Colocasia Gigantea started to flower just two weeks after application of our bio nutrients. I took some photos and will put them up when I find the uplink cable which I misplaced.  In formulating the bionutrients, the availability of potassium is important.  I found that durians have the highest potassium amongst all the high-carbo fruits that we use.  Next is of course banana, then comes the jackfruit / cempadak type fruits and finally papaya. Click here for photos of our flowering Colocasia Gigantea.
Jun 20, 2005
Introduction
Today is June 20th, 2005 and am starting this blog to record what I am doing viz DQ Clean Chicken and my interest in organic and nature farming.

Mandy, my manager told me that there's this new organic shop who told her that they're not selling our chickens as a certain competitor chicken tastes better. Mandy was upset as she knows from numerous feedback from customers that our chicken tastes better than that particular brand of chicken. She feels that this organic shop was perhaps more interested in the higher margin that the competitor is giving to them; but that's no reason to say something untrue about our chicken.

Anyway, I gave them a letter offering two free Guinea Fowl for every 10 DQ chickens they purchase for the whole month of July. Guinea Fowls sell for RM25. Hopefully that's incentive enough to stock our chickens. I just want their customers to have a chance to taste our chickens and then we let the customers decide ultimately.

Also today, the Deputy Minister of Agriculture confirmed that he intends to visit DQ Farm next Monday. That's an honour and I wonder if I can interest the Government in my kind of farming - Nature Q-Farming.

Nature Q-Farming uses Qi. I have found by accident that photosynthetic bacteria when given qi will start to emit qi. I will elaborate more on this on a later date.