Jul 15, 2010
This is what we use as a preventive, especially during rainy weather against bacterial and fungal attacks on our plants (leaves and stems, not roots);
Take 500 grams gelenggang ( cassia alata ) leaves and 400 grams lengkuas rhizomes ( alpinia galanga ) and pound them.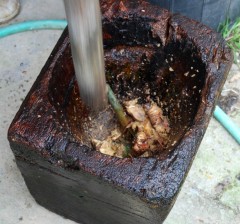 Lengkuas
Gelenggang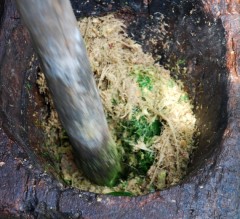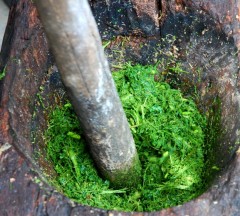 Mix Well
Then squeeze out active ingredients in 30 liters of water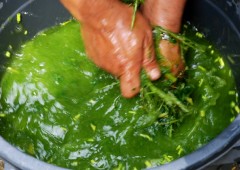 After mixing and squeezing well in 30 liters of water, filter, then spray immediately without dilution. Remember, use immediately.
We find the spray effective as a prevention against most fungal and bacterial infections on stems and leaves. Spray regularly but lightly (sparingly) twice a week. During bad weather or where there are early signs of disease, spray once a day sparingly (lightly) until disease is arrested. It is not effective if disease is well on its way.
Note however that no amount of spraying is going to help you if your soil is unhealthy, your plant is from weak seeds, and your plant is generally weak from lack of nutrients.
Feb 27, 2009
You have most probably noticed this plant at the roadside, especially near earth-drains and low-lying wet areas. It is called Cassia Alata or Gelenggang.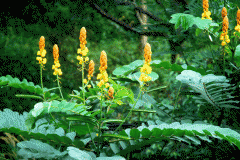 Originally from South America, it is now endemic to Malaysia. It has strong fungicide properties, the active ingredient of which is chrysophanic acid. We use it to spray on vegetables and fruits during the wet season.
It is also used as an anti-fungal for humans and animals - we pound the leaves, add salt and some cooking oil and apply it to the skin. Ringworm will be cured in two days.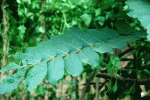 Occasionally, we make a tea out of the leaf. We dry it and then roast it lightly before storing it. When needed, we use one or two leaves to make a mild tea. It is diuretic, mildly laxative and apparently lowers blood sugar.
The 'feel-good' factor after drinking this tea may come from its systemic anti-fungal effects once it is ingested.