Feb 27, 2009
Useful Plants at the Farm - Cassia Alata
You have most probably noticed this plant at the roadside, especially near earth-drains and low-lying wet areas. It is called Cassia Alata or Gelenggang.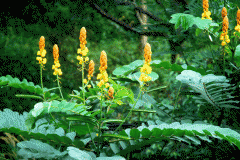 Originally from South America, it is now endemic to Malaysia. It has strong fungicide properties, the active ingredient of which is chrysophanic acid. We use it to spray on vegetables and fruits during the wet season.
It is also used as an anti-fungal for humans and animals - we pound the leaves, add salt and some cooking oil and apply it to the skin. Ringworm will be cured in two days.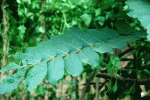 Occasionally, we make a tea out of the leaf. We dry it and then roast it lightly before storing it. When needed, we use one or two leaves to make a mild tea. It is diuretic, mildly laxative and apparently lowers blood sugar.
The 'feel-good' factor after drinking this tea may come from its systemic anti-fungal effects once it is ingested.