Mar 25, 2010
The chicks are now 30 days old and have opened their eyes. Time for some imprinting to prevent them from joining some wild flock in a couple of weeks time when they start to fly.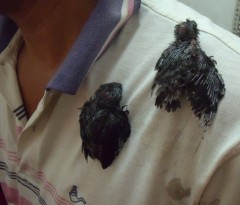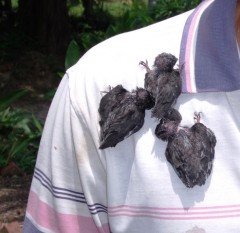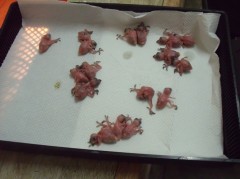 Part of our second batch of about 30 chicks.
We have fine-tuned the brooding temperature, food and other variables for the hatchlings. This second batch looks like heading for a 90% survival rate. The industry standard is 30 to 50%.
Feb 26, 2010
Building up the critical mass naturally takes time. We decided to speed things up a little by incubating eggs and acclimatising them to the micro-climate at our farm from hatchlings.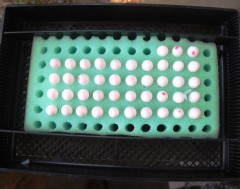 Eggs dated and where there are pin holes and fissures due to mishandling, nail polish is applied.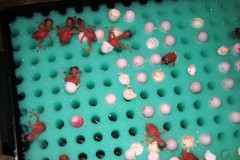 Hatching out in a mere 16 days, not 20 + days as recorded in most books. Almost failed as knowing the incubation period is critical to a successful hatch. However daily observation and experience permitted us to have a successful hatch inspite of misinformation from books and various blogs (one blog recommended an incubation temperature of 40 celcius. That will most likely 'cook' the embryo).
In the brooder at 35 celcius.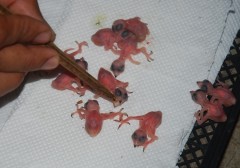 Hand feeding starts 8 hours after hatching.
Update: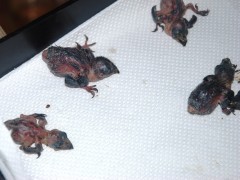 Feathering after 14 days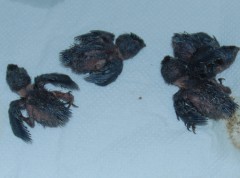 Feathering after 21 days
Nov 05, 2009
On 30th Oct we switched on the sounds on a permanent basis. Today, we noticed the droppings of at least 10 pairs of newly weds. This must surely break all records for the time it takes for the walit to take up home in a man-made structure.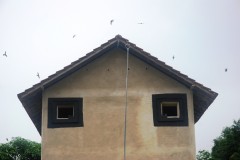 The walit in a farm like DQ provides a useful function in keeping the insect population low. We first noticed the walit when we were scratching our heads as to why our honey bees just keep on disappearing. Then we put two and two together.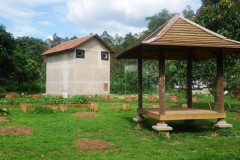 Completed walit house plus garden.