Feb 20, 2012
BFM Radio - Part 2
Feb 17, 2012
BFM Radio
BFM, 89.9, interviewed us recently together with 2 other farmers.
Here's the download of the podcast (20 mins). To play, click the green button:


Here's their website for more interesting podcasts and even real time radio:
Feb 13, 2012
R.I.P. Whitney
Nov 23, 2011
Free Range Layers I
We recycle used tires as nests for our layers.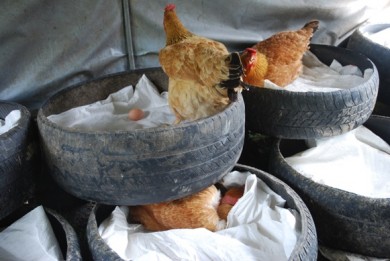 Here's a double decker. It can also be a triple decker, both sides, like an 'A' frame.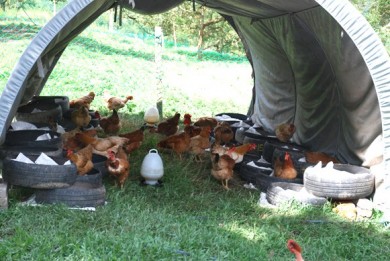 Hens selecting their nests for the evening lay; they can be fussy. Our flock size is 150 hens.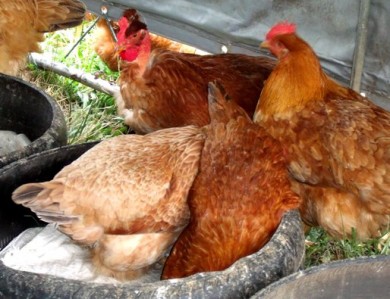 Sometimes several hens just want that particular nest!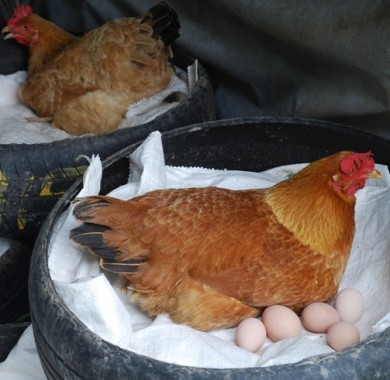 Last one to lay!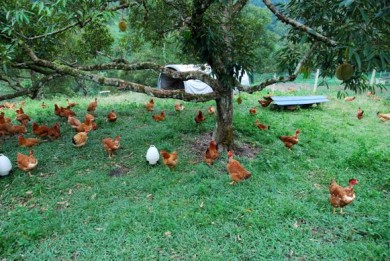 This particular flock have 200 sq ft of grass field per hen. That's chicken heaven!
Nov 19, 2011
Durians - Organically, Sustainably.
Durians are in season at our farm.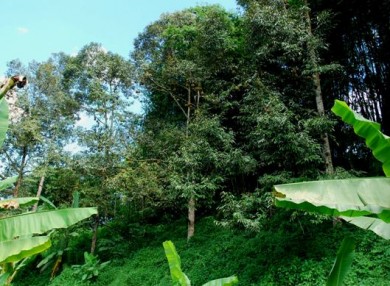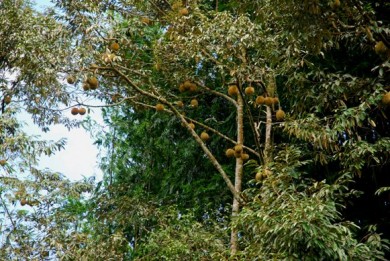 The trees are laden with fruits.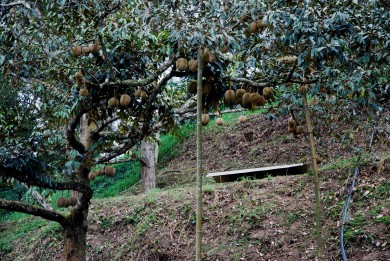 Branches need to be supported or else they will break from the load.
There's zero purchased inputs into our more than 800 trees.
We ferment discarded organs amd innards from our chicken operations to provide nitrogen for the trees.
We spray compost tea made from humus (from our compost) once a week to keep fungus and insects at bay.
That's it folks, plus of course integrated pest management without chemical pesticides. Resulting in the only certified organic durians in Malaysia.
Oct 23, 2011
Our Certified Biochar Producer….
Bal received our competency certificate in biochar production a couple of weeks ago.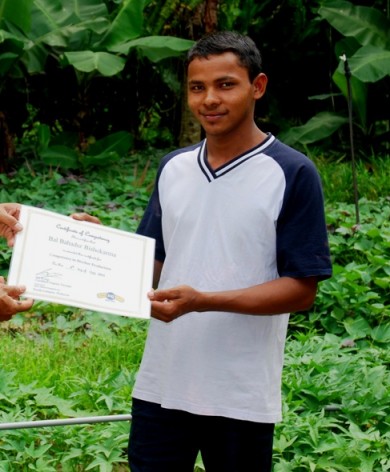 We are very happy with the quality work he is producing now without supervison:
And am especially proud to see this early in the morning when I dropped in: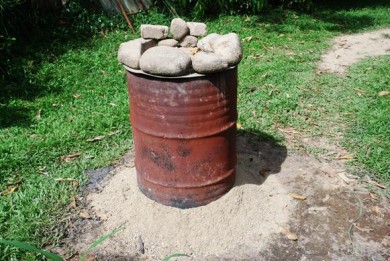 This is the work of someone who really cares about his work. He makes sure that no oxygen can enter the drum resulting in the still hot biochar catching fire, hence reducing the available biochar for use. I have not seen this before with previous workers. A few times, the entire biochar have turned to ashes due to their 'tidapathy' attitude. They were just doing their job. Bal however, cares.
When we run a farm, it is crucial that our workers take ownership of their work. And this calls for proper training and most important, recognition.
Here's Lal, another great Nepal worker smashing up the biochar for use in the litter: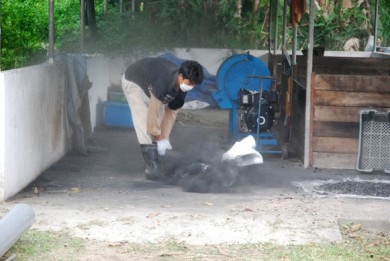 Oct 22, 2011
Warms The Heart...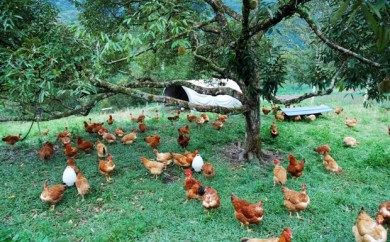 Warms the heart to see our layers going about their business without a care the morning after that down pour. We grow them deliberately on a hill so that the grounds will dry faster after rain and to ensure a clean and dry environment for the eggs.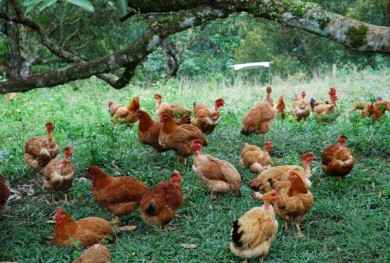 Farmer's Bane...
Farmer's bane struck Thursday night.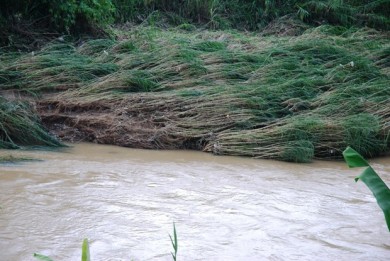 After two hours of heavy down pour, the river broke the banks. The fallen napia grass is how high the waters rose.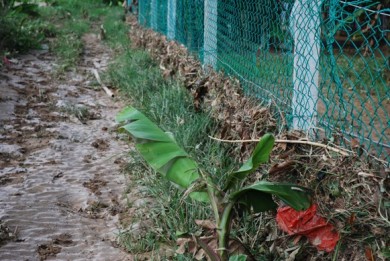 The trapped debris mark the height of the water flooding our fields.
The water rose 8 bricks high, or 2 ft here in this reban.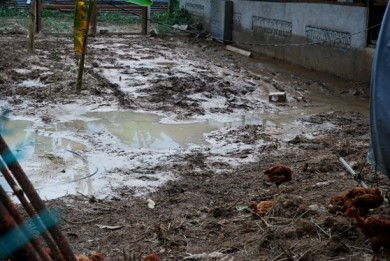 This area was a 2 ft high pool Thursday night. We lose close to 400 chickens. Really, there's a fool born everyday who wants to be a farmer.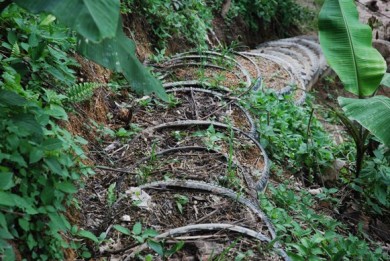 On a brighter note, this tire staircase held up well to the down pour with not a sign of erosion or weakening.
Oct 18, 2011
A Good Knife Is Also Permaculture?
Got this knife in the late 90's for less than USD30. Around RM70.00 then, if memory serves me right.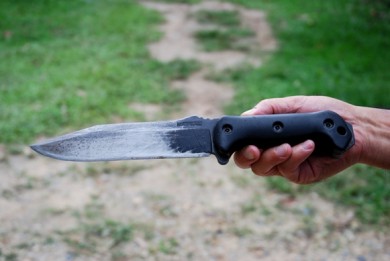 It is a Camillus Becker Knife & Tool, BK 7, made with high carbon 0170-6C steel.
This original version, in mint condition sells for USD185 on ebay today.
The current version by Ka-Bar sells for around USD65 on ebay. There're some reviews that compare it somewhat negatively against the original version. However, on youtube (type kabar BK 7) there are a lot of guys who love the Ka-Bar version.
You can see that our knife has been well used; the powder-coated black color on the blade is almost gone.
A full tang knife is balanced around the middle of the knife and is good for work like removing the rim of a tire. It is also good for close quarter combat where a stabbing motion is used. For that reason, apparently many American soldiers in Iraq bring along a BK 7. A half tang such as our typical 'parang' is blade-heavy and is good for slashing work. Removing a rim with a blade-heavy knife does not allow you to use your body weight and hence you will tire after just a few tires.
Santa, our worker from Nepal takes a casual 30 secs to remove the rim of this used tire using the BK 7:
Santa moves the knife outwards in the video. That's not the preferred method as it is relying on the sharpness of the blade and an unnatural positioning which will strain the arm muscles. I think Santa woke up on the wrong side of the bed.
I prefer an inward moving knife which allows me to use my body weight in an up-down movement and my arm muscle do not cramp up after an hour or so of such work since it is my back muscle and my weight that's doing the work, not the arm.
Knives that are made well, such as the BK 7, demonstrates the principles of permaculture in manufacturing: making things well, using minimal material, and to last a lifetime.
Oct 14, 2011
Slope Farming I
Land is getting scarce and sometimes we have to work on very steep slopes.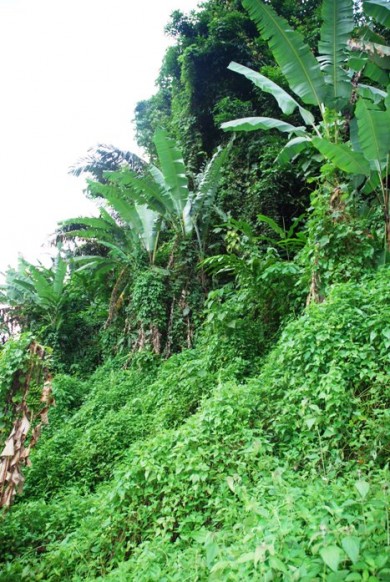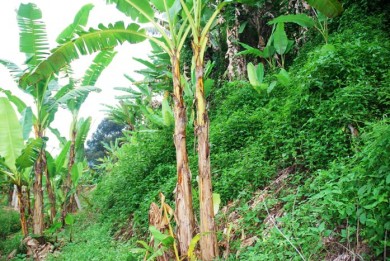 Accessibility and erosion then become major concerns.
Using used tires to make stairways is one way to create permanent, stable access with minimal erosion.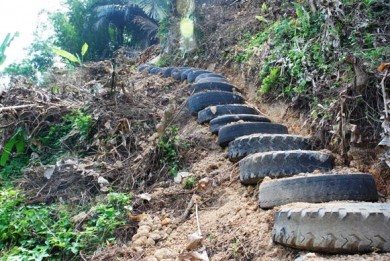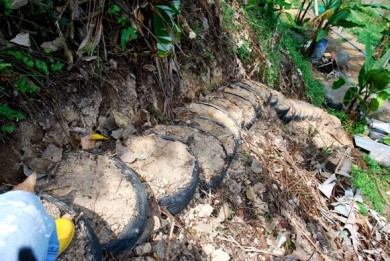 The top rim of the tire should be removed (using a full tang, heavy survival knife is best for this job). Earth used to fill the tires should then be compacted.
This stairway has been holding itself very well with no erosion or stability problems through two monsoon seasons now.