Jul 27, 2009
We produce our own charcoal for multiple use at the farm: to bury carbon as part of the requirement for responsible animal husbandry, to use it to absorb urine and reduce ammonia in litter, to act as a filter in aquaculture, to clean waste water before discharging into rivers, to use as fertiliser for our fruits and vegetables, and to use as a more efficient source of fuel.
We plant fast growing trees such as acacia mangium and gliricidia septium as a renewal source of wood for charcoal production. The fast growing trees are planted where ever we have chickens, even right next to the coops or rebans.
In the fields, they not only convert CO2 to carbon, but also absorb nutrients from the chicken dung.
In this way, we try to reduce our carbon footprint, which should be a required part (and parcel) of the process of raising animals for food.
Click on the picture below for enlarged view: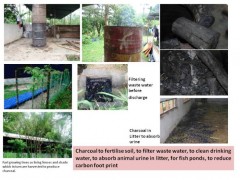 Jul 25, 2009
The farm produces some grey water - from the workers' quarters, from when we wash the rebans, from overflow from the fish ponds.
All grey water is fed into a mini wetlands; first into a large pond planted with aquatic plants, then led into a biological filter using microbes before being led into a mini wetlands made up of slow flowing meandering channels planted with more aquatic plants.
The entire zone is planted with water-loving, edible plants - bananas, papayas, pumpkins, misai kuching, galangal, pegaga and various tubers.
Before discharging into the river, the water goes through a charcoal filter from charcoal made within the farm (click on the picture for a larger view):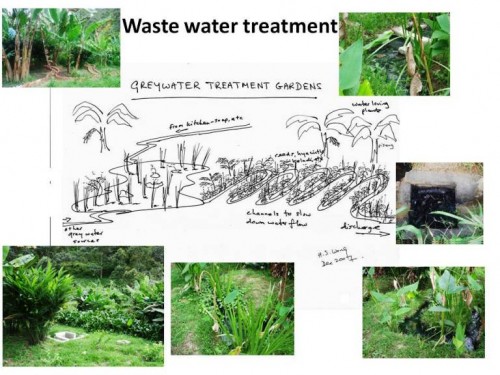 *note: the biological filter and charcoal bed are not in the drawing. They were added during construction.
Jul 24, 2009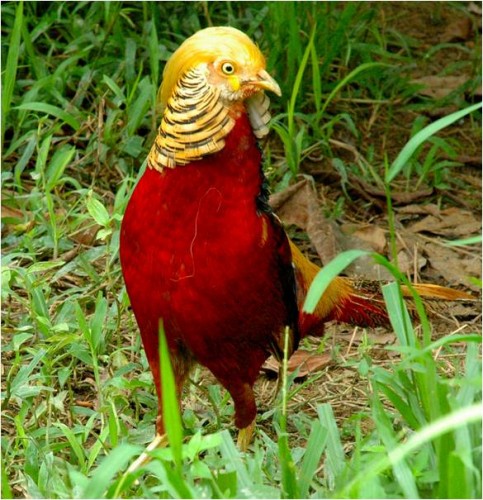 The farm at one time was a zoo of exotic birds. We developed all black cemani type chickens, hybrids between guinea fowl and chickens, chickens that weigh in at less than 250 grams fully grown and various other exotics. Visit the album of some of the birds by clicking the link below. We will add as we go along.
http://dqfarm.blogspirit.com/album/birds-at-the-farm/
Jul 23, 2009
This year, the damage to the durians from fungus is less than 5%. A couple of years back, the damage was 30%. The supervisor at that time could not learn how to do the qi-compost right and we did not use the Teh Qi. His breathing was all wrong.
Ali, my current supervisor is a picture of amazement and just cannot understand what's happening.
He keeps on asking, how come the Teh Qi (Qi Tea) can do this? What is inside the Teh Qi that can reduce the fungal attacks by so much?
Ah Tick, the man who actually takes care of the durians for us on a daily basis says that the degree of damage is the same as those durian farms that use chemicals RIGHT UP TO THE LAST MINUTE OF HARVEST. He himself owns 8 acres of durians. He says, because of the low prices, farmers must ensure that every fruit survives, so they spray until the durian drops. So if you buy conventionally grown durians, make sure you wash your hands after opening the durians before taking hold of the pips to eat.

The Teh Qi is unique, it provides the full compendium of microbes that plants need PLUS it vibrates with energy that gives plants that little extra edge between infested with fungus or being disease free, ceteris paribus.
The next problem Ali and Ah Tick wants Nature Q-Farming to solve is the issue of uneven ripening, especially the D24 variety. This is a problem with unknown causes that farms from Thailand to Australia face. I told them, it's not a problem. Come next season, Nature Q-Farming will reduce that problem by 70%, I promised.
Jul 16, 2009
It's fruiting season and here are some of the fruits: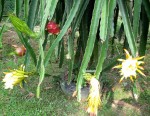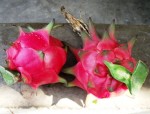 Dragon fruit plant and the fruits.
Here's a macro close-up of the flower (click for enlarged photo) :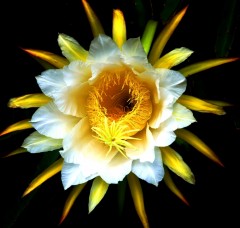 While half of the pitaya farms in Malaysia are decimated by a fungal problem, ours are free from disease with regular spraying of Teh Qi.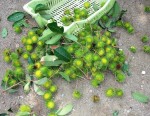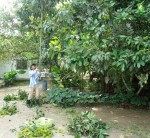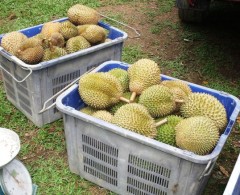 Durians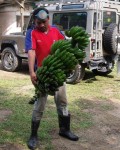 All manners of hard-to-find Musa varieties.
Other fruits ripening include mangosteen, nangka and cempedak.
We estimate our production this year to be 50 metric tonnes, all grown with our own farm-made compost.
Jul 01, 2009
Harvested our first pumpkin today. It is actually a variety of Japanese squash, weighing in at 2kg. We saw one sold at Hock Choon for RM10.50 per kg.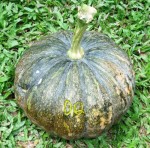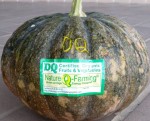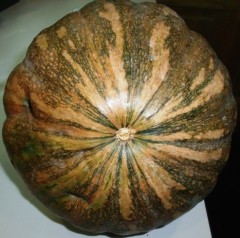 Barely 6 hours after harvesting it, it is changing color nicely to a dark golden-brown.
Can't wait for the aging period to be over to taste it.
Saw this fruit hanging from a wild vine. Never seen it before. Anybody have any idea what it is? Looks like a passiflora. Any ideas?