Sep 04, 2010
Superfood from our forests
The latest craze in the US is black rice, touted as a superfood because of its high anthocyanin content. Here's an article from Yahoo! News.
Wait till these direct sales marketers and health food companies get hold of our black kunyit.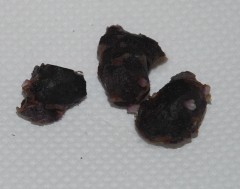 Just 3 fingernail size rhizomes produce this dark deep purple drink: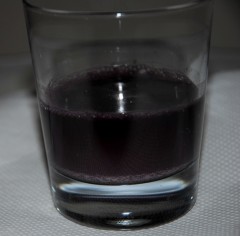 I believe this curcuma is yet unnamed and clearly, it is a rich source of anthocyanin. Having used it for more than a year, I can vouch for its strong anti-inflammation properties.
It is not found in Indonesia otherwise the jamu ladies would have long ago included it in their concoction. The Indonesian temu hitam or temu ereng (
Curcuma aeruginosa Roxb)
is only slightly purplish. It is clearly not Indian too, as the flowers and leaves are different from the
curcuma caesia
which more closely resembles the temu hitam. The rhizomes too are not deep purple / black as the rhizomes here.
So best get the loggers to stop cutting down the forests as this little curcuma sits quietly in the shade and can easily be overlooked.
There must be more of such magical plants in our 150 million year old forests. Shame isn't it if they are lost.
NOTE 22/7/2012 : TWO READERS OF THIS BLOG, ONE FROM HAWAII, AND ANOTHER FROM LANGKAWI, PAK DIN, http://herbwalk-langkawi.com.my/thewalk.html HAVE IDENTIFIED THIS PLANT AS Kaempferia parviflora, A PLANT FOUND IN NORTHERN THAILAND AND USED EXTENSIVELY FOR TRADITIONAL MEDICINE. THANKS TO BOTH FOR HELPING OUT.
THE PLANT WAS FOUND IN A FOREST NEXT TO OUR FARM. WE TAKE NOTE THAT THE FOREST IN QUESTION IS BOUNDED ON THREE SIDES BY FARMS AND ON ONE SIDE BY A FOREST RESERVE. WE CAN ONLY SPECULATE HOW IT WAS INTRODUCED INTO THE FOREST, THOUGH WE MUST ADMIT IT SEEMS EXTREMELY WELL ADAPTED TO THE CONDITIONS LOCALLY AND WE HAVE NEVER SEEN ANY DISEASE AFFECTING THE SAID PLANT.