Nov 12, 2005
An enterprising lady, Mak Saah Binti Hj. Adam, has approached us to use DQ Chickens for home-cooked rendang using a family receipe. We have tried it and it tastes great. She's still working out the pricing but we are so pleased with the results, we have decided to inform our customers first and if you are keen, to book in advance.
Following our standards, no preservatives or chemicals are used. The only cooking oil used is olive oil.
These are the ingredients: old ginger roots, garlic, shallots, lemon grass, galangal roots, coriander, cumin, star anise, fennel, cinnamon, cardamom, fresh turmeric roots, fresh turmeric leaves, limau purut leaves, black pepper, kerisik (coconut), bird's eye chillies, red chillies, coconut milk, candlenuts, tamarind, palm sugar and sea salt. Phew! Plus one or two other "secret" ingredients.
Wherever possible, fresh ingredients will be from our farm.
Nov 03, 2005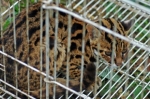 Felix the Felis Bengalensis came avisiting every night, having a chicken for dinner. Well, we are losing some 100 birds a month, so there must be a family around. Anyway, this one is going to Taman Negara.
(Yes, she is the same kucing batu that breeders use to cross with the local domestic to produce the Bengal breed).
Oct 17, 2005
EMFs – What's that?!
Well, you better find out more about it as it could affect your health. Research in many countries are pointing to EMFs as a possible cause of some cancers, for one thing. EMFs means ElectroMagnetic Fields. Here's one article from Dr.Mercola http://www.geocities.com/dqcleanchicken2/EMFMercola/emfmercola.html .
We just bought a Gauss meter ( a meter that measures EMFs). This is what we found out – I have been sleeping in a location where the EMF reading is 2 mG for the past 15 years. The accepted safe limit is 1 mG. My handphone on standby is 0.2mG. When I am sending, it shoots up to 5mG. That lamp next to my bed which sometimes is on 24 hours is 1.5mG. That silly battery operated alarm clock next to my head is 2.5mG; it is going to that shelf two meters away. My table fan's motor is shooting out 40mG, but luckily the front is only 1 mG one meter away. My little aquarium pump was humming along at over 2000mG, the price we pay for buying "cheap" things!
I paid big bucks for one of those low emission TVs. It is true, the measurement at the screen was only 1.5mG. but surprise, surprise, the twin speakers at the sides were emitting 5 to 6 mG.
When you are using your microwave, you like to peer inside to see how the food is coming along, don't you? I don't know about yours, but when I placed my Gauss meter on the door, it went off the scale (2000mG). I had to back up 4 feet before it went down to 1 mG. That microwave oven is going to the garbage bin tomorrow.
A friend told me he sleeps in one of those Japanese health beds that's suppose to cure his back or something. I told him the chances are he is exposing himself to high EMFs and that may be the reason for his chronic headaches. That was before I got the Gauss meter. I recommended he wears a Qlink, and it had an immediate effect in restoring his eye sight and reducing his headaches. That he moved the motor of his "health" bed about 4 feet away from his head may also have helped. I can't wait to check the emissions at his bed with the Gauss meter.
By the way, when we were passing under a high tension overhead cable, the meter went up to 6 mG. Wonder what's the reading inside a house right next to the cables?
For your health, find out more about hidden EMFs in your house and office and practice "Prudent Avoidance".
To find out more about Qlink, visit www.qlinkmalaysia.com
Oct 02, 2005
Am so glad that Fruit Bats have decided to make our farm their home at last. They used to be transcient, roosting in bushes during fruiting seasons. Now, they seem to have decided at last to make the farm their permanent home. It speak volumes for the natural environment that is found in our farm - their endorsement is our sucess. We know some of our workers come from countries where bats are part of their cuisine. The only way to stop them was to inform them that the bats get rid of the dreaded aedes mosquitoes at the times that the mosquitoes are most active - early morning and late evening. We have seen the bats going for the mosquitoes in the twilight and early dawn.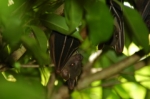 Click on the picture to view enlarged image.
Jun 20, 2005
Today is June 20th, 2005 and am starting this blog to record what I am doing viz DQ Clean Chicken and my interest in organic and nature farming.

Mandy, my manager told me that there's this new organic shop who told her that they're not selling our chickens as a certain competitor chicken tastes better. Mandy was upset as she knows from numerous feedback from customers that our chicken tastes better than that particular brand of chicken. She feels that this organic shop was perhaps more interested in the higher margin that the competitor is giving to them; but that's no reason to say something untrue about our chicken.

Anyway, I gave them a letter offering two free Guinea Fowl for every 10 DQ chickens they purchase for the whole month of July. Guinea Fowls sell for RM25. Hopefully that's incentive enough to stock our chickens. I just want their customers to have a chance to taste our chickens and then we let the customers decide ultimately.

Also today, the Deputy Minister of Agriculture confirmed that he intends to visit DQ Farm next Monday. That's an honour and I wonder if I can interest the Government in my kind of farming - Nature Q-Farming.

Nature Q-Farming uses Qi. I have found by accident that photosynthetic bacteria when given qi will start to emit qi. I will elaborate more on this on a later date.